---
BILL
JACKAMEIT'S
STUDEBAKER
PAGE
---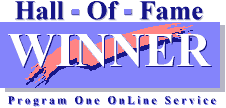 ---
---
Welcome fans of the pride of South Bend. I am a long-time Studebaker fan and Studebaker Drivers Club member, having owned a 1957 Silver Hawk in high school and a 1959 Lark Regal Hardtop in college. Since then, I have owned other Studes as hobby cars including a 1962 Champ Pickup, a 1964 Canadian Commander Special Sedan, a 1962 GT Hawk, a 1960 Lark Regal 4-door, a 1957 Silver Hawk (not the same one I owned in high school -- that one I wrecked) and a 1949 Champion Starlight Coupe. My current Studes are a 1964 Challenger Wagonaire Station Wagon with sliding roof and a 1964 Daytona Sedan. I will build this page as time allows. If you have any suggestions or comments, please send me a message. If you expeience a problem with the e-mail link, the address is wj2d44@gmail.com. Both text and image contributions are welcome.
---
STUDE OF THE MONTH
AUGUST 2018
1964 Studebaker Pursuit Marshal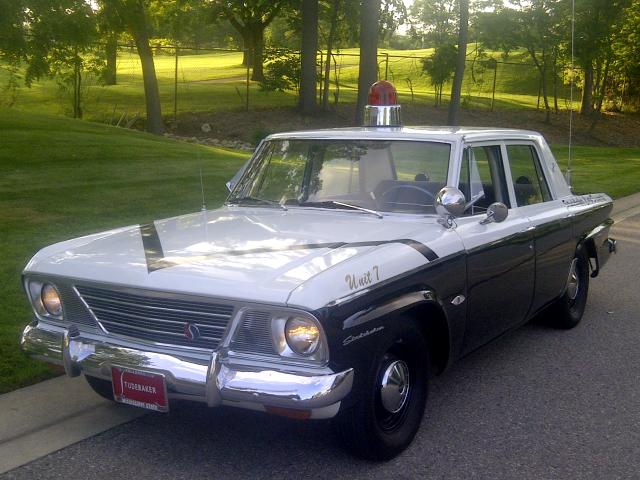 Front View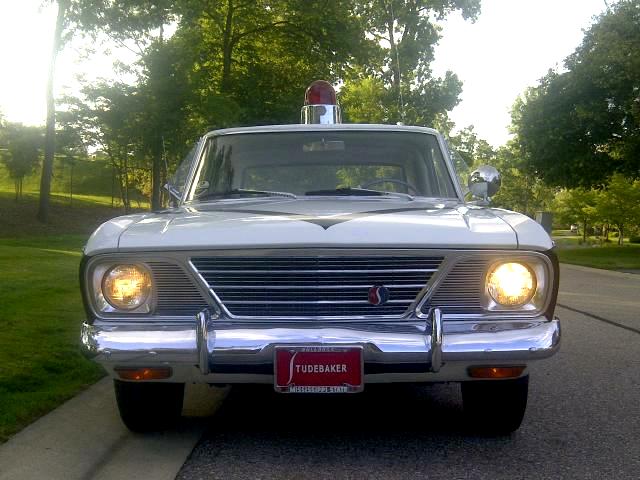 Rear View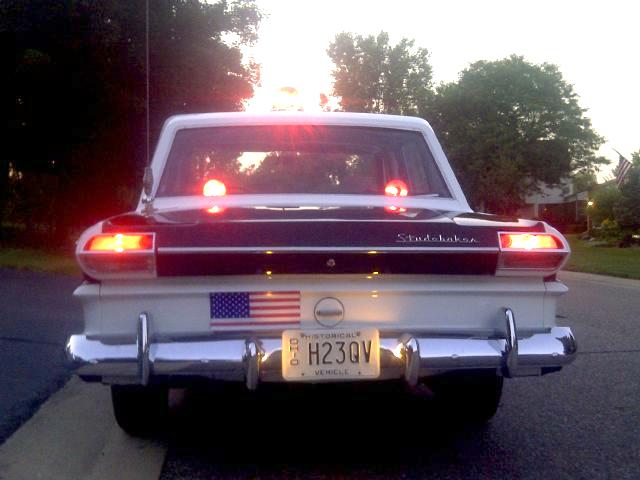 Side Angle View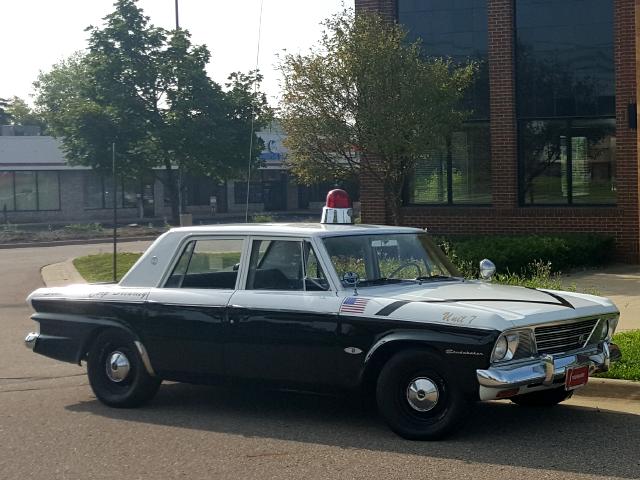 Interior and Dash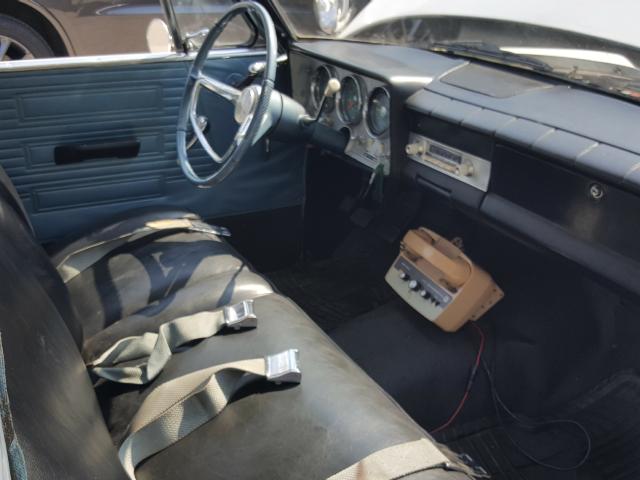 Under the Hood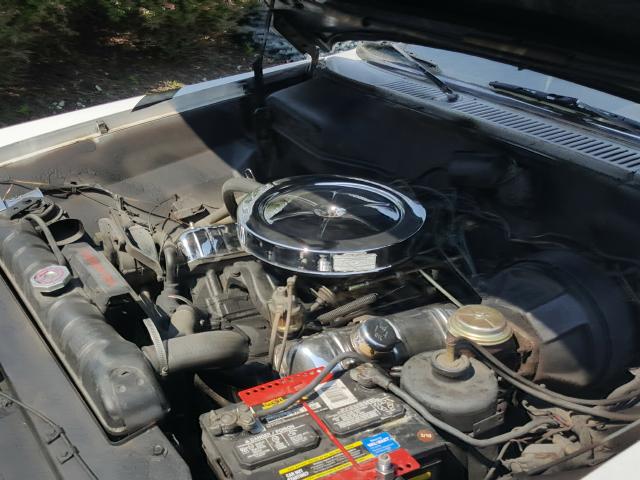 This rare 1964 Studebaker Pursuit Marshal is owned by Michael Cenit of Bloomfield, Michigan. It is one of 20 Pursuit Marshal demonstration cars built at South Bend in the fall of 1963. Michael's car was sent unsolicited to the Wisconsin State Patrol. It was equipped with a 289 cubic inch R1 Jet Thrust V8 engine with 4-barrel carburetor and dual exhaust rated at 240 horsepower and has a three-speed manual transmission without overdrive. The Wisconsin State Patrol had previously evaluated a 1963 Studebaker Pursuit Marshal with the R2 Jet Thrust supercharged engine but returned the car without placing an order. The announcement that Studebaker would be shifting production to Canada effectively ended the evaluation of the 1964 model.
Studebaker was serious about trying to capture more of the police market with its 1964 line of Marshals. A special brochure was produced to help market the 1964 models. Among other things, the brochure touted the availability of disc brakes and supercharged engines. Marshals could be ordered as City Marshals, Patrol Marshals, or Pursuit Marshals and as 2-door sedans, 4-door sedans, or station wagons. The 20 demonstration cars were each produced to meet different state or city specifications. Most had automatic transmissions and all had R1 Jet Thrust engines. Only three had manual shift of which two were 4-speeds. Michael's Pursuit Marshal was the only one of the demonstration cars that was a three-speed manual.
Michael has owned his Pursuit Marshal since 1988 and is the fourth owner. When he acquired the car it was all white. Michael needed to repair rust starting at the bottom of the front fenders and decided to paint the lower half of the car and the trunk lid black rather than try and match the white. The result is much more attractive than the original in my opinion. The car came from the factory with a built-in roll bar and special bolstered driver's seat both of which can be seen in the pictures above. The push-button radio was added by a Studebaker dealer after the car was returned by the Wisconsin State Patrol. Here is a rear angle shot of Michael's Marshal with all lights flashing.
Designer Brooks Stevens did a masterful job of making the 1964 Lark-type Studebakers look new while retaining the basic structure of the 1963 model. The rear quarter panels on 1963 and 1964 sedans are the same even though the 1964 has a very different look at the rear. The 1964 models received new front fenders, a new trapezoidal grille, new hood, revised roof line, new trunk lid, and new tail lamps with integrated backup lights. Wagonaires received the new front end but were unchanged from the windshield back except for side and rear trim. Marshals had a "Studebaker" script on the front fenders as opposed to the model name like "Commander"or "Daytona" as on regualar Lark-types.
Michael also owns 1956 and 1957 Transtar Pickups. The 1956 is a three-quarter ton and the 1957 is a helf ton and both have long beds. Here is a picture of the 1956 Transtar in the Applied Partners warehouse. Applied Partners is a family company which specializes in recycling assets from industrial structures that have reached the end of their useful life. Michael founded the company and is presently Chairman Emeritus. The Transtar is semi-retired but is used for occasional post office runs to keep it active.
Thanks to Michael for sending the pictures and information about his rare 1964 Studebaker Marshal.
If you own or once owned a Studebaker or related vehicle and would like to see your car as "Stude of the Month" or in the "Cool Studes" section, or if you have other pictures or material that you would like to contribute to this page, please e-mail me here at wj2d44@gmail.com. I can accept either electronic or hard copy images. The Main Page is issued every other month so the next edition will be October 2018.
---
All of the previous editions of the Main Page going back to October 1995 have been reposted. In the process of reposting the pages, I have made corrections and revisions as needed, and in some cases added material that was not used when a page was first posted due to download speed and file storage limitations. A complete list of Main Pages and Studes of the Month with links to each is located here.
If you have a particular interest in Bullet Nose Studebakers, visit Bill Junge's Bullet Nose Paradise which is dedicated to the 1950 and 1951 Bullet Nose models.
---
2014 INTERNATIONAL MEET
DOVER, DELAWARE
BONNEVILLE SPEED WEEK
STUDEBAKER SALT FLATS RACERS
STUDEBAKER NATIONAL MUSEUM
PICTURES FROM MY VISIT
VIRGINIA MUSEUM OF
TRANSPORTATION STUDEBAKERS
---
TEST YOUR STUDEBAKER KNOWLEDGE!
---
COOL STUDE UPDATE
Custom 1953 Champion Starlight Coupe


Rear Angle View


Fitted Mustang Cobra Interior


Under the Hood

The very cool Custom 1953 Studebaker Champion Starlight Coupe is owned by Ron and Gail Tesinsky of Bilings, Montana. Gail sent the pictures and information with a note that the car is currently for sale. This car first appeared on this page in February 2016 when it was photographed by Bill Junge at a car show in Lake Havasu City, Arizona. Ron Tesinsky designed and built the car at his business Westside Kustoms in Bilings.
The roof has been chopped 4 1/2" with the windshield placed flush and tilted back 7" and custom flush three-piece back glass. All four wheel openings were flared, custom Hawk style fins were added to the rear quarters, and the trunk lid was custom fabricated with a Mustang spoiler. Power comes from a 1999 Ford Mustang Cobra 4.6 liter DOHC 32 valve engine with a Tremec 5-speed transmission and Positraction rear end. The IFS front and IRS rear suspension are from a 1986 Jaguar XJS. Stopping power is provided by four-wheel disc brakes.
The interior was transplated from the Mustang Cobra donor car. Gail indicates that the dash, door panels, and back seat side panels required careful measuring and some modification but not as much as might be surmised. The result is nothing short of amazing the way everything fits together. Here are shots of the driver side door panel, the rear seat being fitted during construction, and the finished rear seat area. Sitting inside the car you might think you were in a Mustang Cobra.
Amenities include power steering, power windows, power seats, keyless entry, an alarm system, air conditioning, cruise control, and a modern eight speaker sound system. the door handles are Chrysler, and the exterior rear view mirrors are late model Buick Century units. The car is nosed and decked and has no exterior chrome trim. Modern pneumatic struts have been added to the nicely finished trunk. Paint is House of Kolor Tangerine Kandy over PPG Concept Gloss Black. The bumpers, front grilles, headlight rims, and taillight rims are all painted.
Tooned Metal Model


Rear Angle View


Work in Progress

Ron Tesinsky built this tooned (as in cartoon style) metal model of the Custom 1953 Starlight Coupe from scratch. It beautifully done and is painted just like its big brother.
Gail and Ron Tesinsky are both expericed salt flats racers. Here is a picture of Gail's 1953 Studebaker Salt Flats Racer parked behind the Custom 1953 Starlight Coupe. The Racer has a whole story of its own having spent time in a meseum before the Tesinskys bought it and returned it to salt flats racing. Gail is listed as the owner and driver of the Studebaker while Ron races in a 1932 Ford Roadster.
Thanks to Gail Tesinsky for sending the pictures and information about this very cool 1953 Custom Studebaker Starlight Coupe.
---
DAN'S STUDEBAKER CROSSWORD PUZZLES
Dan Armstrong from Mansfield, Texas has created a number of crossword puzzles and games for car nuts. These are available on-line at Dan's Extreme Car Puzzles. Dan has a strong interest in Studebakers, particularly the 1956 Sky Hawk, the performance equipped 1963 Lark Daytona, and the performance equipped 1963 and 1964 GT Hawks. The Studebaker crosswords are copyright by Dan Armstrong and are used with his permission. Thanks to Dan for providing the link and the downloadable Studebaker crossword puzzles for readers of this page to enjoy.
---
Nick Bodemer's Studebaker Dealer Inventory Project was started in June 2011 and includes a growing number of pictures, articles, ads, and other items related to former Studebaker dealerships. Well worth a visit. If you have a Google account you can join the site through Google Friend Connect.
---
BRIGHTVIEW BALDWIN PARK
1953 Commander Starliner


Rear Angle View


Interior and Dash

This beautiful 1953 Studebaker Commander Starliner Hardtop is owned by Chester and Nancy Bradfield of Bridgewater, Virginia. Chester says he was restoring a manual shift 1953 Starliner but his wife and family said they would prefer one with an automatic transmission. The Bradfields found this car fully restored in Nebraska, purchased it, and brought it to Virginia. It has the early 1953 tri-star hood ornament that was later changed due to protests from Mercedes-Benz. It also has optional bolt-on wire wheels covers and a factory push-button radio. All 1953 Starliner Hardtops were high trim Regal models.
Designed by Bob Bourke of Raymond Loewy Associates, the 1953 Studebaker Starliner won numerous awards and is considered by many to be the best styled American car of the 1950's. The basic body of the 1954 Starliner carried through to the 1964 Gran Turismo Hawk. The fenders and rear quarter panels on the 1953 Starliner and the 1964 GT Hawk are essentially identical and are interchangable. The Starliner and its companion Starlite five-window coupe were designed with streamlining in mind. As such, this design has proven popular to this day in salt flats racing and in the Carrera Panamericana race.
1938 Packard Eight Convertible


Rear Angle View


Interior and Dash

This gorgeous 1938 Packard Eight Convertible is owned by Ron Capps of Staunton, Virginia. It is powered by a 282 cubic inch flathead straight eight rated at 120 horsepower. According to its informarion placard, the factory weight is 3,625 pounds and the base price was $1,365. Options on Ron's Packard and their original cost include a deluxe steering wheel at $12.50, custom radio at $65.75, heater at $19.85, radiator ornament at $6.75, electric clock at 12.50, and chrome trim rings at $20.00.
Ron's car is a "Junior" Packard as opposed to the larger engine, longer wheelbase, more luxurious, and more expensive "Senior" Packards. The division between Junior and Senior started in 1935 when Packard introduced less expensive cars to compete in the upper-middle price class. Prior to 1935, Packard had produced only luxury cars. Roller Shifflett's impressive 1935 Packard Victoria Convertible with body by Deitrich parked next to Ron's car is a Senior Packard.
1964 Studebaker Daytona Sedan

Brightview Baldwin Park was the first outing for my 1964 Daytona after installing the accessory rear window venetian blinds that were in the back seat of the car when I bought it. I am not sure I am going to leave them installed but they do serve as a conversation starter. Here is a rear view of the installed blinds. They do work to keep the rear seat shady and they don't vibrate with the windows down nor do they block the driver's vision.
The Brightview Baldwin Park Senior Living Community in Staunton, Virginia has sponsored an annual antique vehicle display for quite a few years. Each year, members of the Waynesboro-Staunton Region of the AACA are invited to bring their cars and trucks to display on the grounds of this attractive complex. This year the event was held on July 7 and the participants were treated to beautiful weather. The oldest car displayed was a 1917 Buick and the newest was a 2011 Dodge Charger.
---
Did you know that Michael Kelly's New Avanti Motor Corporation signed a deal to produce the VW based Brazilian Puma Sports Car? I didn't think so! The deal fell through when Kelly ran out of money. To learn more about the Puma, visit my Puma Sports Cars Site.
---
---
STUDE TOY OF THE MONTH
Atlas Dinky Studebaker Garbage Truck







This 1:43 scale Atlas Editions Dinky Toys M Series Garbage Truck is the latest in a long series of issues of reproduction French Dinky Studebaker trucks. However, this one is different in that Dinky Toys never issued a Studebaker Garbage Truck. The model comes packed in a yellow picture box. and the end flap of the box indicates that it is a "prototype" model. This is actually a hybrid model that uses the dump unit from a French Dinky Toys Ford Garbage Truck. Atlas has reproduced the Ford version and decided to also fit the dump unit to the Studebaker chassis. The result is an interesting model but not technically a reproduction. This model is available on eBay from several vendors for about $30.
My collection of Atlas M Series Studebakers includes a wrecker, a covered back truck, a stake bed truck, a milk truck, a dump truck, and an open back truck with trailer. The open back truck with trailer was featured in August 2017, the wrecker was featured in February 2017, the milk truck was featured in February 2016, and the stake bed was featured in June 2015. Here is a picture of the wrecker and covered back, here is a picture of the open back and trailer, and here is a picture of the stake bed, milk truck, and dump truck. In addition to the Studebaker M Series Trucks, the reproduction Atlas Dinky Toys line includes a 1939 Commander Coupe and a 1955 Commander Hardtop.
More toy Studes can be found in the Stude Stuff area of this page and on my Studebaker Toys Home Page.
Click here for information on ordering hard to find Studebaker toys made by manufacturers such as Johnny Lightning, Racing Champions, Hot Wheels, Matchbox, Muscle Machines, Maisto, and EKO.
Studebaker Toy Treasures Book

Jim Geary's book Studebaker Toy Treasures is the standard reference collectors of Studebaker Toys. This wonderful book has 294 pages of color pictures and details on hundreds of Studebaker toys. Publication date is 2004 and just about every Studebaker toy and model produced up to that time is pictured and cataloged. Jim is making the book available for $28 plus $10 for shipping. Jim will sign the book if requested. This is a must for the serious Studebaker toy vehicle collector. Jim can be contacted at sanjim76@live.com or send payment to Jim Geary, 181 Allendale Hills Road, Franklin, NC 28734.
---
---
---
---
* * * This Page On Line Since October 1995 * * *
---
Published 8/1/2018