---
BILL
JACKAMEIT'S
STUDEBAKER
PAGE
---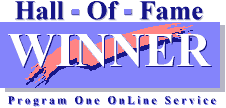 ---
---
Welcome fans of the pride of South Bend. I am a long-time Studebaker fan and Studebaker Driver's Club member, having owned a 1957 Silver Hawk in high school and a 1959 Lark Regal Hardtop in college. Since then, I have owned other Studes as hobby cars including a 1962 Champ Pickup, a 1964 Canadian Commander Special, a 1962 GT Hawk, a 1960 Lark Regal 4-door, a 1957 Silver Hawk (not the same one I owned in high school -- that one I wrecked) and a 1949 Champion Starlight Coupe. My current Stude is a 1964 Challenger Wagonaire sliding roof station wagon. I will build this page as time allows. If you have any suggestions or comments, please send me a message. Both text and image contributions are welcome.
---
STUDE OF THE MONTH
JUNE 2016
1962 Studebaker Gran Turismo Hawk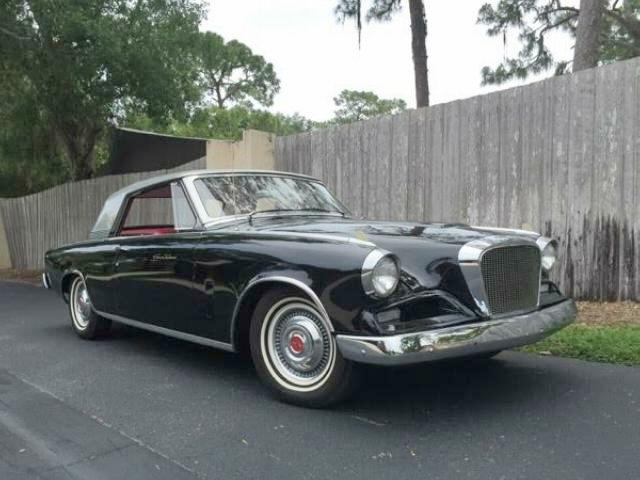 Rear Angle View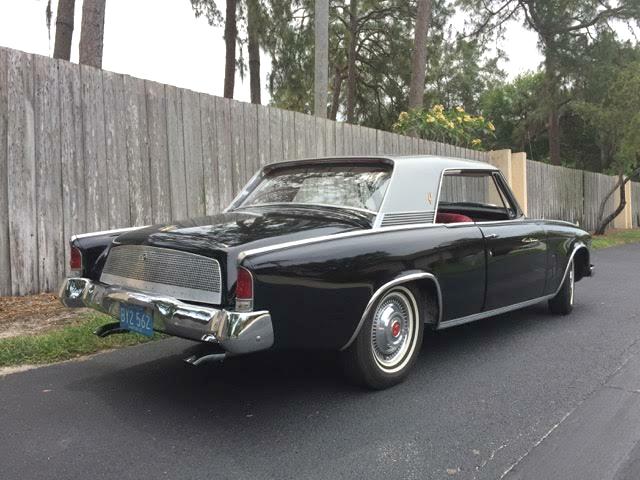 Side View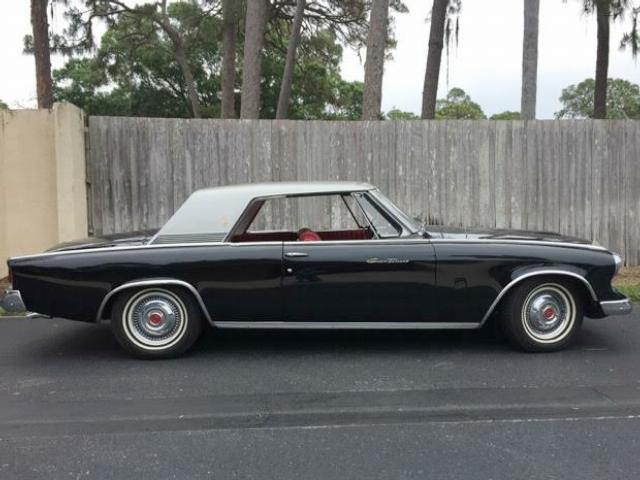 Rear View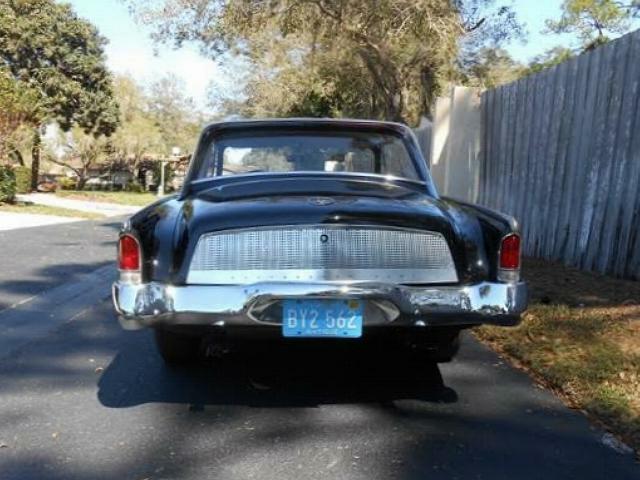 Interior and Dash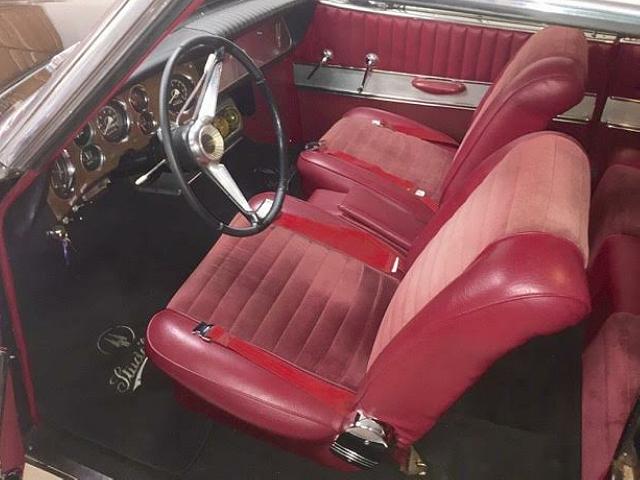 Under the Hood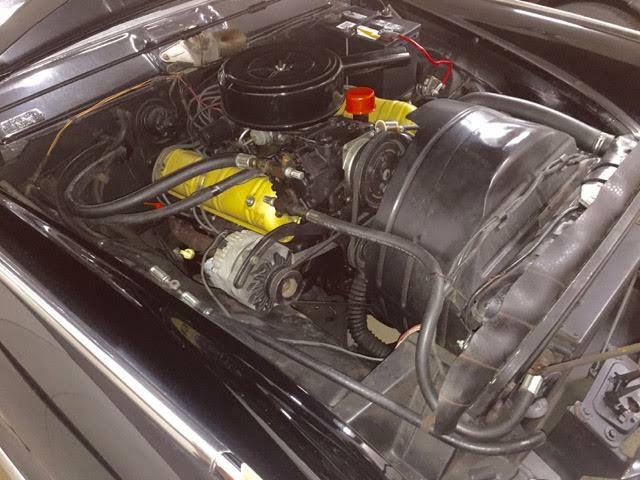 This tastefully two-toned 1962 Gran Turismo Hawk is owned by Bill Ladroga of Sarasota, Florida. The car was sold new in Pasadena, California. According to the production order, it was originally all Velvet Black and had a red vinyl interior. Bill does not know when the top portion was painted silver or when the seats were redone with red velour cloth inserts. Here is a picture of the reupolstered rear seat area with the standard fold down armrest. This is not the first GT Hawk I have seen with the top portion painted a contrasting color. Indeed, some Studebaker dealers were willing to two-tone Larks and Hawks in years when only single tone paint was available from the factory in order to make a sale.
The GT came with the factory optional clock but no tachometer. Bill was able to locate a used tach which he installed so his Hawk is now a "full-dash" car. Factory air conditioning was added by a previous owner and has been converted to R134A refrigerant. Bill says that the air conditioner blows colder than his newer cars which is great to have in Florida. The car starts right up with its added electric fuel pump and performs well with the stock two-barrel Stromberg WW carburetor. A possible upgrade would be to switch to a four-barrel setup but Bill has not decided whether or not he wants to do that.
Many of the trim items on the car were either missing or damaged when he got the car so Bill has been replacing or refurbishing them as time allows. This included installing a set of nice used extruded aluminum rocker panel moldings. He has also replaced the loud Flowmaster mufflers that were on the car with quieter mufflers and repainted the oil filler caps and power steering pump caps the correct colors. Bill likes to take it to local shows and expose the marque to those who donít have a clue as to what it is. Most often he is asked if it is some kind of Mercedes.
The history of the car is a mystery from 1962 to 2008. Apparently is was in California for some time and then found its way to Alabama. It was later sold to a body shop Florida which in turn sold it in 2008 to a doctor who ran a limo service. Bill's GT Hawk is Serial Number 62V37103 and Body Number 6964. If anyone can fill in any gaps in its history, please contact the pagemaster and I will pass the information along.
Bill previously owned a beautiful 1956 Studebaker Golden Hawk which was featured on this page in October 2012. That car now belongs to Bill's son Tom.
Thanks to Bill for sending the pictures and information about his 1962 GT Hawk. Bill says it is a driver, not a show car, but it is a really nice driver!
If you own or once owned a Studebaker or related vehicle and would like to see your car as "Stude of the Month" or in the "Cool Studes" section, or if you have other pictures or material that you would like to contribute to this page, please e-mail me here. I can accept either electronic or hard copy images. The Main Page is issued every other month so the next edition will be August 2016.
---
All of the previous editions of the Main Page going back to October 1995 have been reposted. In the process of reposting the pages, I have made corrections and revisions as needed, and in some cases added material that was not used when a page was first posted due to download speed and file storage limitations. A complete list of Main Pages and Studes of the Month with links to each is located here.
If you have a particular interest in Bullet Nose Studebakers, visit Bill Junge's Bullet Nose Paradise which is dedicated to the 1950 and 1951 Bullet Nose models.
---
2014 INTERNATIONAL MEET
DOVER, DELAWARE
BONNEVILLE SPEED WEEK
STUDEBAKER SALT FLATS RACERS
ELECTRIC POWERED 1950
STUDEBAKER PICKUP TRUCK
STUDEBAKER NATIONAL MUSEUM
PICTURES FROM MY VISIT
VIRGINIA MUSEUM OF
TRANSPORTATION STUDEBAKERS
---
TEST YOUR STUDEBAKER KNOWLEDGE!
---
More 2016 York Swap Meet Pictures
1958 Studebaker Golden Hawk


Rear Angle View


Supercharged Engine

This rare 1958 Golden Hawk was spotted in the Car Corral for sale area. It is one of only 878 Golden Hawks produced for the 1958 model year. Distinguishing features for 1958 include egg-crate style mesh in the side grilles, a large round plastic Hawk ornament in the main grille, and small wings on the fender-mounted parking and turn signal lamps. Also new for 1958 were 14" wheels with five-spoke design hubcaps. The "TT" emblem on the trunk indicates that this example is equipped with Studebaker's Twin-Traction limited slip differential. The colors are Waterfall Blue and Parchment White.
Custom 1954 Studebaker Ute Type Pickup


Rear Angle View


Nicely Finished Bed

One of the nice things about swap meets is that some unusual and often unfinished "work in progress" vehicles show up. This nicely done custom 1954 Studebaker Ute certainly meets that discription. "Ute" is a term used in Australia and New Zealand to describe two-wheel-drive passenger vehicles with a rear cargo bed integrated with the passenger car body. I was not able to ascertian the owner of this vehicle. If anyone can provide the name of the owner or information about this vehicle I will update the page accordingly.
I took a number of other interesting shots at York this year which I will use in future updates as space allows.
The next Studebaker York Swap Meet will be held March 9, 10, and 11, 2017. The raffle car for 2017 is a 1957 Golden Hawk. Information on the meet and raffle car can be found on the Keystone Region web site.
---
DAN'S STUDEBAKER CROSSWORD PUZZLES
Dan Armstrong from Mansfield, Texas has created a number of crossword puzzles and games for car nuts. These are available on-line at Dan's Extreme Car Puzzles. Dan has a strong interest in Studebakers, particularly the 1956 Sky Hawk, the performance equipped 1963 Lark Daytona, and the performance equipped 1963 and 1964 GT Hawks. The Studebaker crosswords are copyright by Dan Armstrong and are used with his permission. Thanks to Dan for providing the link and the downloadable Studebaker crossword puzzles for readers of this page to enjoy.
---
Nick Bodemer's Studebaker Dealer Inventory Project was started in June 2011 and includes a growing number of pictures, articles, ads, and other items related to former Studebaker dealerships. Well worth a visit. If you have a Google account you can join the site through Google Friend Connect.
---
STUDE MISCELLANY
More Canadian Champ Pictures


Passenger Side View

Sidney Samek of Manning, Alberta sent some additional pictures of his 1963 Studebaker Champ Pickup in the snow. This truck first appeared on this page in February 2016. Sidney indicates that he intends to have the truck painted by July of this year. Sidney's Champ is equipped with a 289 cubic inch V8 with a two barrel carburetor and overdrive. I look forward to seeing pictures of the repainted truck and sharing them on this page once the job is complete.
Thanks to Sidney for sending the additional pictures and information about his Champ truck.
Rare Studebaker Wagonaire Luggage Cover


Photo from 1964 Accessories Brochure

I'm always on the outlook for both factory and period aftermarket accessories for my 1964 Challenger Wagonaire. This genuine Studebaker AC-3454 "Inside Rear Deck Luggage Cover" is my latest acquisition. It was purchased from Studebakers West after being advertised in the May 2016 issue of Turning Wheels. It was listed as "NOS one of a kind plus" and it turned out they had two in stock of which one had been sold before I called. I consider myself lucky to get the last one they had.
The instructions are simple enough. All that you need to do is attach eight metal fasteners with existing trim screws and attach two additional metal fasteners with longer trim scews as provided. One of the metal fastners and one of the longer trim screws can be seen in the picture above. I have not decided if I am going to actually install it or not.
I'm trying to get all of the Wagonaire accessories that were available for 1964 several of which are shown here. I have an AC-2983 Cargo Mat in my Wagonaire and now I have the AC-3454 Luggage Cover. I also have a complete NOS AC-3364 Luggage Rack that is not installed. I'm just not sure I can bring myself to drill the holes needed to install it.
Thanks to Studebakers West for fast and friendly service and for this great addition to my Wagonaire stash of items.
---
Did you know that Michael Kelly's New Avanti Motor Corporation signed a deal to produce the VW based Brazilian Puma Sports Car? I didn't think so! The deal fell through when Kelly ran out of money. To learn more about the Puma, visit my Puma Sports Cars Site.
---
STUDE TOY OF THE MONTH
Liberty Classics 1916 Studebaker With Stove







This relatively uncommon Liberty Classics 1:25 scale 1916 Studebaker with Stove was a year 2000 special issue model for Lennox Industries. The model came packed in a special picture box. According to the information on the box, Lennox dealers used the automobile to assist them with their marketing efforts. The box indicates that this is a 1920 Studebaker but the base of the model has "1916 Studebaker" cast into it. It depicts a vehicle used for advertising purposes rather than for delivery. This example was purchased on eBay some time back.
Liberty Classics also produced a special 100th Aniversary Dave Lennox 1916 Studebaker Pickup in 1995 for Lennox Industries. That model was featured on this page in February 2014. It has a load of four stoves and is more of a delivery vehicle. Here is a picture of the two Lennox models that used the 1916 Studebaker casting. Liberty classics has produced numerous variations of its 1916 Studebaker casting in pickup, panel delivery, roadster, and tanker form. Most of these have been issued through Spec Cast as promotional models.
More toy Studes can be found in the Stude Stuff area of this page and on my Studebaker Toys Home Page.
Click here for information on ordering hard to find Studebaker toys made by manufacturers such as Johnny Lightning, Racing Champions, Hot Wheels, Matchbox, Muscle Machines, Maisto, and EKO.
Studebaker Toy Treasures Book

Jim Geary's book Studebaker Toy Treasures is the standard reference collectors of Studebaker Toys. This wonderful book has 294 pages of color pictures and details on hundreds of Studebaker toys. Publication date is 2004 and just about every Studebaker toy and model produced up to that time is pictured and cataloged. Jim is making the book available for the reduced price of $28 including shipping. This is a great deal since most vendors sell this book for $39.95 plus shipping. Jim will sign the book if requested. Jim can be contacted at sanjim76@live.com or send payment to Jim Geary, 181 Allendale Hills Road, Franklin, NC 28734.
---
---
---
---
* * * This Page On Line Since October 1995 * * *
---
Published 6/1/2016