---
BILL
JACKAMEIT'S
STUDEBAKER
PAGE
---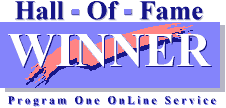 ---
---
Welcome fans of the pride of South Bend. I am a long-time Studebaker fan and Studebaker Driver's Club member, having owned a 1957 Silver Hawk in high school and a 1959 Lark Regal Hardtop in college. Since then, I have owned other Studes as hobby cars including a 1962 Champ Pickup, a 1964 Canadian Commander Special, a 1962 GT Hawk, a 1960 Lark Regal 4-door, a 1957 Silver Hawk (not the same one I owned in high school -- that one I wrecked) and a 1949 Champion Starlight Coupe. My current Stude is a 1964 Challenger Wagonaire sliding roof station wagon. I will build this page as time allows. If you have any suggestions or comments, please send me a message. If you expeience a problem with the e-mail link, the address is wj2d44@gmail.com. Both text and image contributions are welcome.
---
STUDE OF THE MONTH
FEBRUARY 2017
1961 Studebaker Hawk Coupe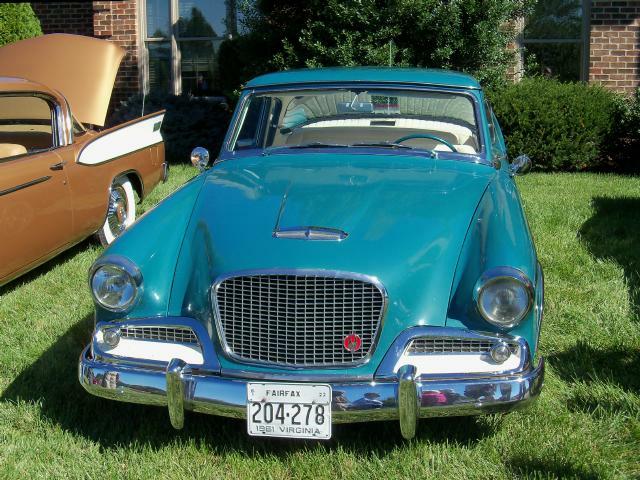 Rear Angle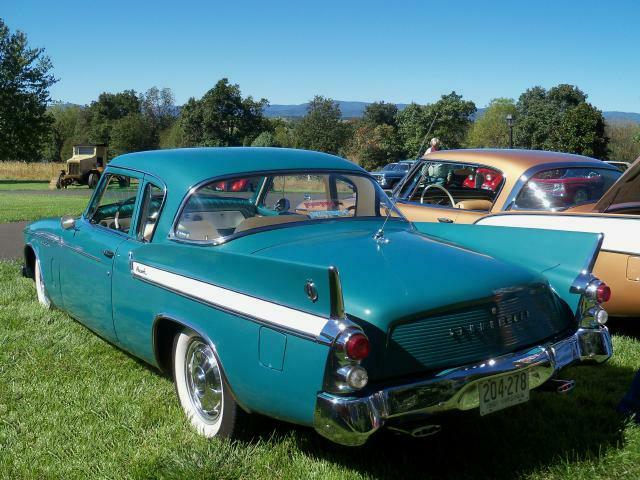 Rear View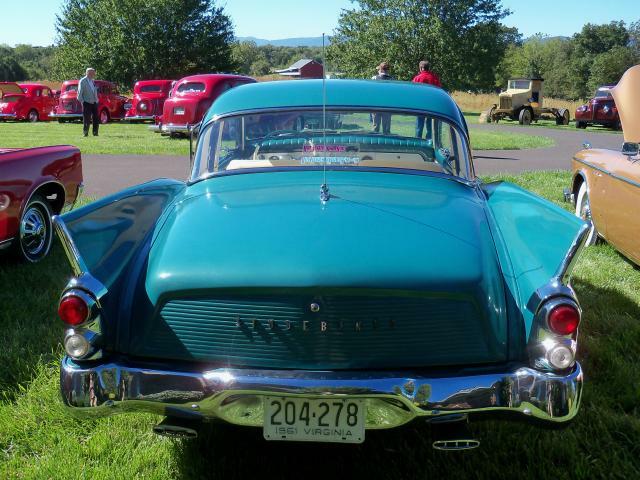 Front Angle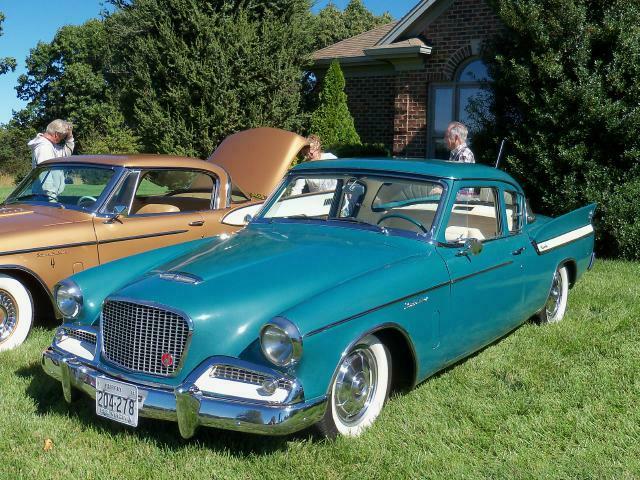 Interior and Dash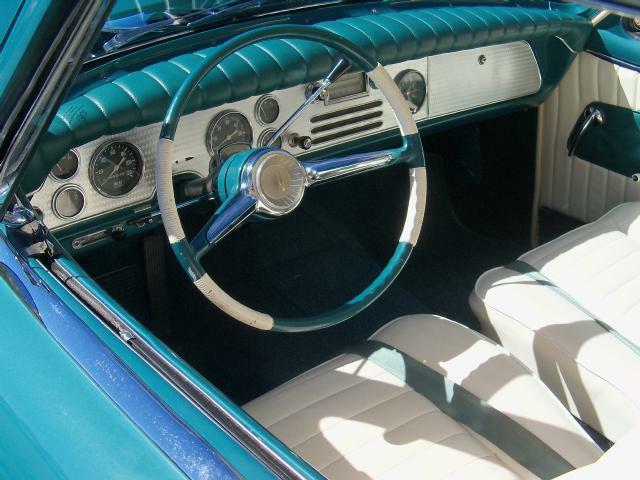 Under the Hood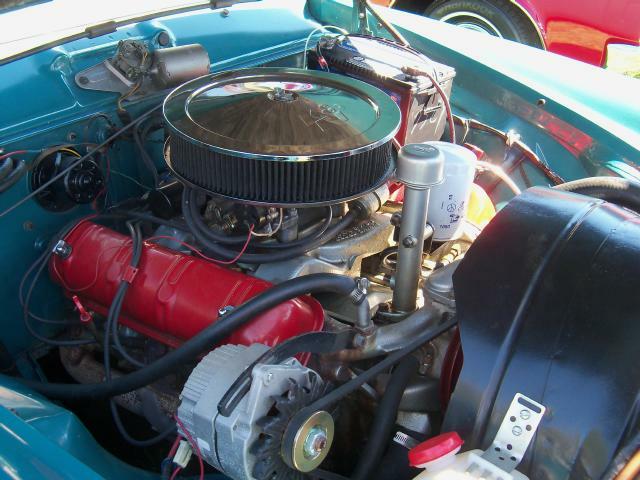 This sharp 1961 Studebaker Hawk Coupe belongs to George Marshall of Midlothian, Virginia. George's Hawk is equipped with Flightomatic automatic transmission, power steering, Climatizer heater and defroster, factory tachometer and clock, and factory manual AM radio with trunk lid antenna. The car is mostly stock but the standard generator has been replaced with an alternator, an Edelbrock 4-barrel carburetor has been installed, the original air cleaner has been replaced with a K&N air cleaner, and the car is running radial tires and 1964 style hubcaps.
George's Hawk was a West Coast car for most of its life. It was repainted and reupolstered in Washington State prior to being sold to its previous owner in the Atlanta, Georgia area. The color is Studebaker Green Jade with an Ermine White accent stripe. George purchased the car from its Georgia owner and had it trucked to Virginia. It presently shows just over 26,000 miles on the odometer on the second time around so total mileage is just over 126,000. Here is a side view of George's Hawk.
The 1961 Hawk was the last of the finned Hawks with total production of 3,929 units including 266 six cylinder cars for export only. The export six cylinder export Hawks used the new overhead valve six rated at 112 horsepower which was a significant improvement from previous six cylinder Hawks. This was the first year that Hawks came with bucket seats and a four-speed manual transmission was available as an option. Otherwise, there was little interior or mechanical change from the prior year.
The pictures above were taken at the October 2016 Greater Virginia SDC "Studebakers d'Elegance" Meet held at the home of Chester and Nancy Bradfield in Bridgewater, Virginia. This annual event has no entry fee and no judging, just lots of interesting cars, typically from several states. In addition to many fine Studebakers, the event attracted street rods from the Valley Cruisers and "Brand X" cars belonging to local AACA members. Thanks to Chester and Nancy for once again opening their home for this great event.
If you own or once owned a Studebaker or related vehicle and would like to see your car as "Stude of the Month" or in the "Cool Studes" section, or if you have other pictures or material that you would like to contribute to this page, please e-mail me here at wj2d44@gmail.com. I can accept either electronic or hard copy images. The Main Page is issued every other month so the next edition will be April 2017.
---
All of the previous editions of the Main Page going back to October 1995 have been reposted. In the process of reposting the pages, I have made corrections and revisions as needed, and in some cases added material that was not used when a page was first posted due to download speed and file storage limitations. A complete list of Main Pages and Studes of the Month with links to each is located here.
If you have a particular interest in Bullet Nose Studebakers, visit Bill Junge's Bullet Nose Paradise which is dedicated to the 1950 and 1951 Bullet Nose models.
---
2014 INTERNATIONAL MEET
DOVER, DELAWARE
BONNEVILLE SPEED WEEK
STUDEBAKER SALT FLATS RACERS
STUDEBAKER NATIONAL MUSEUM
PICTURES FROM MY VISIT
VIRGINIA MUSEUM OF
TRANSPORTATION STUDEBAKERS
---
TEST YOUR STUDEBAKER KNOWLEDGE!
---
More Cool Studes
1963 Gran Turismo Hawk R1


Rear Angle View


Interior and Dash

This beautiful 1963 Studebaker Gran Turismo Hawk R1 Hardtop is owned by Debbie and Jim Jett of Richmond, Virginia. The Jett's Hawk appeared on this page as Stude of the month in October 1996. Twenty years later the car looks just as good if not better than it did way back then. The Jetts have owned their GT Hawk since 1994. The car received one respray in Long Beach, California back in 1991 prior to be acquired by Debbie and Jim. The interior was redone in 1998 at which time the foam rubber padding on the seats had deteriorated and and needed to be replaced.
The round emblem in the lower right of the Grille and the oval emblem under the front fender air vents identify this car as a "Super Hawk" with an optional Avanti engine. The Jett's Hawk is equipped with the R1 engine, which is the base engine in the Avanti. It also has the Powershift automatic transmission which was designed to be shifted manually if desired. Other factory options include air conditionaing, push button radio, and in-dash tachometer and clock.
Thanks to Jim Jett for providing updated information on this outstanding 1963 GT Hawk.
Custom 1957 Champion Sedan


Rear View


Interior and Dash

If this 1957 Studebaker Champion Sedan should look familiar because it was Stude of The Month on this page in October 2016. Owner Donnie Seal continues to work on the car and the interior as shown above has a finished look compared to this earlier picture taken back in August. Carpet has been installed, a nicely upholstered in vinyl bench seat has replaced the bucket seats, and the door panels and kick panels have been upholstered to match. Although it is not shown in these pictures, a newly painted stock front hood has been installed thus completing the exterior.
The pictures of the Jett's GT Hawk Hardtop and Donnie Seal's 1957 Champion Sedan were taken at the October 2016 Bridgewater Meet.
---
DAN'S STUDEBAKER CROSSWORD PUZZLES
Dan Armstrong from Mansfield, Texas has created a number of crossword puzzles and games for car nuts. These are available on-line at Dan's Extreme Car Puzzles. Dan has a strong interest in Studebakers, particularly the 1956 Sky Hawk, the performance equipped 1963 Lark Daytona, and the performance equipped 1963 and 1964 GT Hawks. The Studebaker crosswords are copyright by Dan Armstrong and are used with his permission. Thanks to Dan for providing the link and the downloadable Studebaker crossword puzzles for readers of this page to enjoy.
---
Nick Bodemer's Studebaker Dealer Inventory Project was started in June 2011 and includes a growing number of pictures, articles, ads, and other items related to former Studebaker dealerships. Well worth a visit. If you have a Google account you can join the site through Google Friend Connect.
---
STUDE MISCELLANY
1953 Studebaker M35 Military Truck


Rear Angle View

This 1953 Studebaker M35 6X6 2.5 Ton Military Truck was recently listed on for sale on the Eastern Surplus Equipment web site. Eastern Surplus started as a "hobby" and was built from scratch. The company currently operates out of a 30,000 square foot truck refurbishing and parts warehouse facility in Philadelphia, Pennsylvannia. This particular M35 has been retrofitted with a 360 cublic inch Cummins B Series straight six turbo-diesel engine. Many M35's received new engines when undergoing upgrades to extend their service life. Here is a picture of the identification plate that indicates that this M35 was manufactured by the Studebaker Corporation in 1953.
The M35 started as a 1949 REO Motor Car Company design for a 2½-ton 6x6 off-road military truck. Over the years, the M35 and its various iterations have been assembled by a number of manufacturers including Reo, Studebaker, Kaiser Jeep, American General, Bombardier in Canada, and Kia in South Korea. Studebaker had a number of government contracts to assemble M35 trucks from the early 1950's through the end of South Bend production. Studebaker M35's were built at the Studebaker truck plant on Chippewa Avenue. Early models used gasoline engines while later models were equipped with multifuel engines.
Studebaker assembled thousands of M35 trucks but exact production figures are elusive. The company had contracts during the Korean War period for some 29,400 units alone. The identification plate on the 1953 production truck above has the manufacturer's serial number M-31407. The highest Studebaker M35 manufacturer's serial number I have identified is a 1962 production truck with the manufacturer's serial number M-56220. After ending production in South Bend, Studebaker sold its military truck assembly contract to Kaiser Jeep along with the Chippewa Avenue plant. This operation evolved into the AM General Corporation, which is best known for the Humvee military utility vehicle.
Thanks to Dave Newman, owner of Eastern Surplus Equipment, for the Studebaker M35 pictures and information.
---
Did you know that Michael Kelly's New Avanti Motor Corporation signed a deal to produce the VW based Brazilian Puma Sports Car? I didn't think so! The deal fell through when Kelly ran out of money. To learn more about the Puma, visit my Puma Sports Cars Site.
---
UK STUDE TOY COLLECTION
Conquest 1955 Studebaker Speedster




Minimarque 1957 Silver Hawk Coupe



Here are two more models from Jeff Sion's Studebaker toy car collection. Jeff is particularly interested in 1:43 scale models of 1953 to 1964 Studebaker hardtops and coupes. Thus far he has collected 31 different models including some very rare items. More of Jeff's collection can be seen here.
The Conquest 1955 Studebaker Speedster in black and white is one of several color variations of this model. Conquest/Madison models are hand-crafted in white metal from precision molds and individually finished. The models include chromed bright work, white wall tires as appropriate, and simulated glass windows. The Conquest/Madison line also includes a 1956 Studebaker Golden Hawk and a 1947 Studebaker Champion Station Wagon Prototype. Conquest models sell for about $250 as indicated by various eBay listings.
The Minimarque white over blue 1957 Silver Hawk is also one of several color variations of this model. It has been made in a number of color combinations including green over turquoise, dark blue over light blue, black over grey, and white over red. My understanding is that the white over red version is a special issue sold only by Route 66 Models. MiniMarque models are cast in white metal and hand finished to a very high standard. A complete listing of available models can be found on the Illustra Models web site.
Thanks to Jeff for sending the pictures and information about his great Studebaker toy collection. Jeff indicates that he is always looking for 1:43 scale models of Studebaker hardtops and coupes and would enjoy hearing from other collectors with similar interests. He can be contacted by e-mail at jeff@magnifeyes.co.uk.
---
STUDE TOY OF THE MONTH
Atlas Dinky Studebaker M Series Wrecker








Atlas Editions of France continues to issue additional variations of the French Dinky M Series Studebaker Truck. One of the more recent issues is the DY 25 R Studebaker "Dinky Service" Wrecker which comes packed in a very nice reproduction picture box. Another recent issue is a DY 25 Q M Series Covered Back Truck. Here is a picture of the Atlas M Series Wrecker towing the Atlas M Series Covered Back Truck. I purchased the wrecker from a vendor on the eBay France site. The covered back, which is easier to find, was purchased on the U.S. eBay site from a vendor in China.
In addition to the wrecker and covered back, my collection of Atlas M Series Studebaker Trucks includes a stake bed truck, a milk truck, and a dump truck. The stake bed truck was featured on this page in June 2015 and the milk truck was featured on this page in February 2016. Here is a picture of the M Series Stake Bed Truck, M Series Milk Truck, and M Series Dump Truck taken together. In addition to the M Series Trucks, the Atlas Dinky line also includes a 1939 Commander Coupe and a 1955 Commander Hardtop.
Atlas Editions markets an extensive line of adult collectibles including a 1:43 scale "Spirou et Fantasio" 1953 Starliner Hardtop that was featured on this page in December 2008 and a 1:43 scale 1947 Studebaker Commander in the Tintin Series that was featured on this page in June 2012.
More toy Studes can be found in the Stude Stuff area of this page and on my Studebaker Toys Home Page.
Click here for information on ordering hard to find Studebaker toys made by manufacturers such as Johnny Lightning, Racing Champions, Hot Wheels, Matchbox, Muscle Machines, Maisto, and EKO.
Studebaker Toy Treasures Book

Jim Geary's book Studebaker Toy Treasures is the standard reference collectors of Studebaker Toys. This wonderful book has 294 pages of color pictures and details on hundreds of Studebaker toys. Publication date is 2004 and just about every Studebaker toy and model produced up to that time is pictured and cataloged. Jim is making the book available for $28 plus $10 for shipping. Jim will sign the book if requested. This is a must for the serious Studebaker toy vehicle collector. Jim can be contacted at sanjim76@live.com or send payment to Jim Geary, 181 Allendale Hills Road, Franklin, NC 28734.
---
---
---
---
* * * This Page On Line Since October 1995 * * *
---
Published 2/1/2017