---
BILL
JACKAMEIT'S
STUDEBAKER
PAGE
---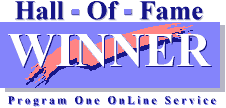 ---
---
Welcome fans of the pride of South Bend. I am a long-time Studebaker fan and Studebaker Drivers Club member, having owned a 1957 Silver Hawk in high school and a 1959 Lark Regal Hardtop in college. Since then, I have owned other Studes as hobby cars including a 1962 Champ Pickup, a 1964 Canadian Commander Special Sedan, a 1962 GT Hawk, a 1960 Lark Regal 4-door, a 1957 Silver Hawk (not the same one I owned in high school -- that one I wrecked) and a 1949 Champion Starlight Coupe. My current Studes are a 1964 Challenger Wagonaire Station Wagon with sliding roof and a 1964 Daytona Sedan. I will build this page as time allows. If you have any suggestions or comments, please send me a message. If you expeience a problem with the e-mail link, the address is wj2d44@gmail.com. Both text and image contributions are welcome.
---
STUDE OF THE MONTH
FEBRUARY 2018
1963 Studebaker Lark Regal Sedan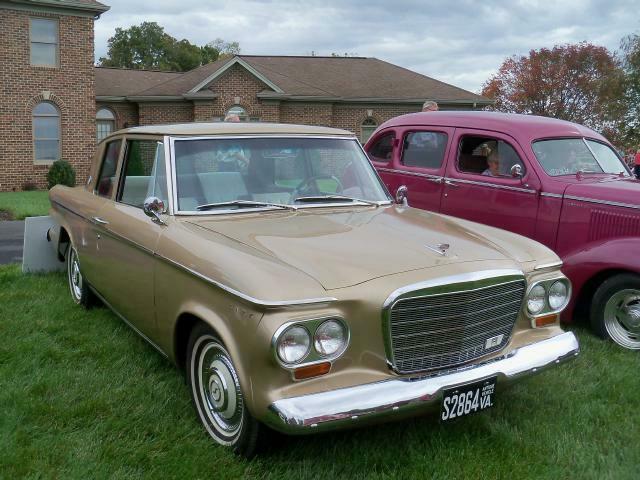 Rear Angle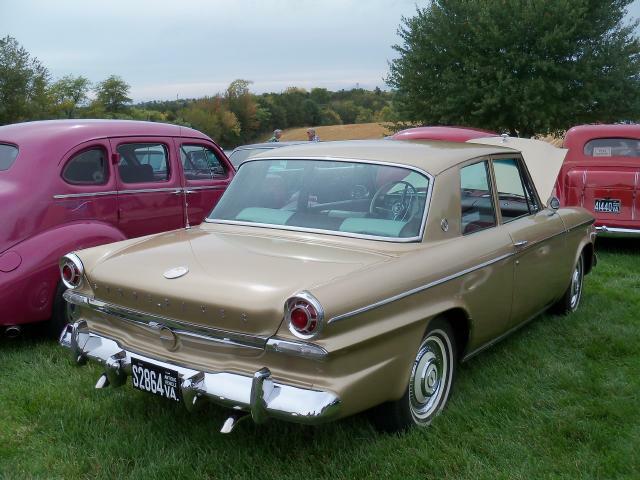 Side View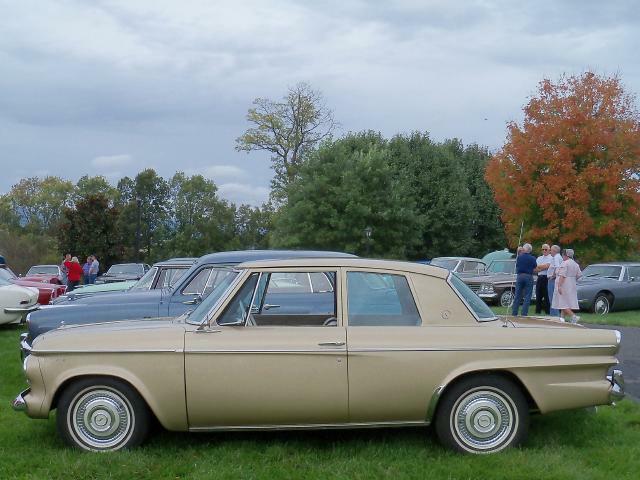 Driver Side Angle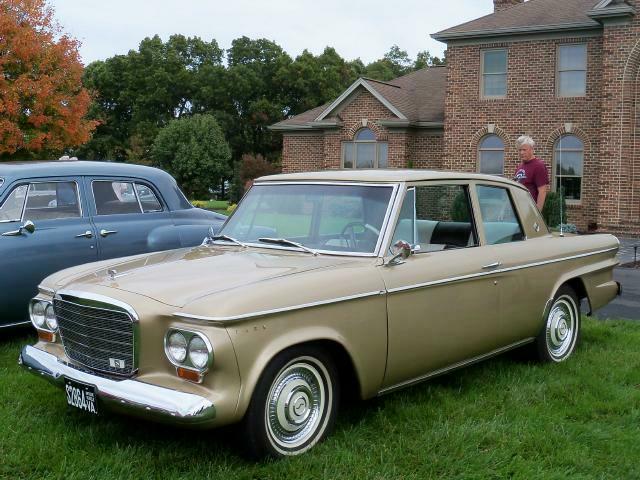 Interior and Dash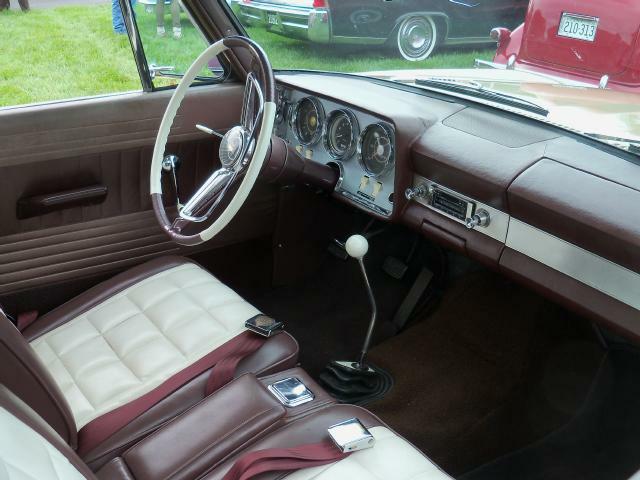 Under the Hood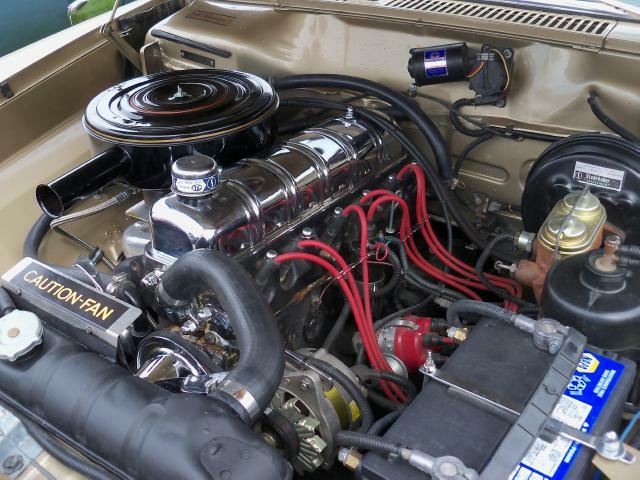 At the time these pictures were taken, this sharp Hamilton built 1963 Studebaker Lark Regal 2-Door Sedan was owned by Theron White of Washinton, DC. It has since been sold to Peter Lefkin also of Washington, DC. Peter is a member of the Potomac Chapter of the Studebaker Drivers Club. The car features a Daytona style interior with bucket seats and center console, an in-dash tachometer, and a floor shift for the three-speed manual transmission with overdrive. The Skybolt Six has a chrome valve cover and oil filler cap and a split exhaust with dual pipes at the rear. It is also equipped with power brakes, full wheel covers, and an optional factory windshield washer. Theron purchased the car from its second owner and brought it to the U.S. from Stony Plain in the Edmonton Capital Region of Alberta, Canada. Aside from the modifications noted above, the car is mostly original except for an engine rebuild and one respray in the original Champagne Gold.
The 1963 Lark featured a completely restyled padded dashboard with full instrumentation and an integrated beauty vanity. The Regal trim level was sloted above the Standard trim level and below the new for 1963 Custom trim level. Standards had rubber windshield and rear window trim. Regals had bright windshield and rear window trim but no bright trim around the side windows. Customs came with bright side window trim and upgraded upolstery. A total of 17,401 Lark body 2-door sedans were built for the 1963 model year. An interesting fact is the rear quarter panels on the 1963 Lark and restyled 1964 Lark types are the same even though the 1964 trim and revised tail lamps make the 1964 model look all new.
The pictures were taken at the October 2017 Studebaker Meet at the home of Chester and Nancy Bradfield in Bridgewater, Virginia. This event has no entry fee and no judging, just lots of interesting cars, typically from several states. In addition to many Studebakers, it has welcomed street rods from the Valley Cruisers and "Brand X" cars belonging to local AACA members. Unfortunately, the 2017 event will be the last. Thanks to Chester and Nancy for once again opening their home for this great event. I'll have more pictures from the 2017 event in the next update of this page.
Theron White is a member of the Central Virginia Chapter of SDC. He has also owned a blue 1963 Lark Regal 2-Door Sedan that appeared on this page in December 2014 and a 1948 Commander Starlight Coupe that appeared on this page in February 2012. Thanks to Theron for providing the information on his former Hamilton built 1963 Lark.
If you own or once owned a Studebaker or related vehicle and would like to see your car as "Stude of the Month" or in the "Cool Studes" section, or if you have other pictures or material that you would like to contribute to this page, please e-mail me here at wj2d44@gmail.com. I can accept either electronic or hard copy images. The Main Page is issued every other month so the next edition will be April 2018.
---
All of the previous editions of the Main Page going back to October 1995 have been reposted. In the process of reposting the pages, I have made corrections and revisions as needed, and in some cases added material that was not used when a page was first posted due to download speed and file storage limitations. A complete list of Main Pages and Studes of the Month with links to each is located here.
If you have a particular interest in Bullet Nose Studebakers, visit Bill Junge's Bullet Nose Paradise which is dedicated to the 1950 and 1951 Bullet Nose models.
---
2014 INTERNATIONAL MEET
DOVER, DELAWARE
BONNEVILLE SPEED WEEK
STUDEBAKER SALT FLATS RACERS
STUDEBAKER NATIONAL MUSEUM
PICTURES FROM MY VISIT
VIRGINIA MUSEUM OF
TRANSPORTATION STUDEBAKERS
---
TEST YOUR STUDEBAKER KNOWLEDGE!
---
Seen at the Reedsville Swap Meet
1963 Lark Daytona Hardtop


Rear Angle View


Passenger Side View

The 2017 Reedsville Studebaker Swap Meet was held on Friday, October 27 and Saturday, October 28. As usual, the meet was sponsored by the Manhattan Chapter of the Studebaker Drivers Club and was held at the Mifflin County Youth Park. I drove up to Reedsville on Friday and was glad that I made the trip. The Reedsville Meet is not as large as the York Meet and the facility is more modest but it is more than adequate for the purpose. Reedsville seems to attract smaller vendors and prices on most items were reasonable.
Among the cars on the grounds was this 1963 Lark Daytona Hardtop with Pennsylvannia classic car license plates and mag wheels with modern raised letter radial tires. Only 3,073 Lark body hardtops were produced for the 1963 model year making this a relatively rare car. Daytonas featured an aluminum side spear with gold "Daytona" script setting them apart from the lower trim models as discussed above. I was not able to determine the owner of this car but if a reader can provide that information I will update the page accordingly.
My main Reedsville purchase was an AC-3473 manual tune AM Radio complete with knobs and face plate. The radio had been removed from a 1964 Commander. I bought it for my 1964 Daytona which came from the factory without a radio. The radio is identical to the one in my 1964 Challenger Wagonaire. The vendor selling radios had a setup with a battery, antenna, and speaker so that the radio could be tested before purchase. The radio worked fine and after some haggling I was able to purchase it for $50 which was a very good buy. Here is the radio installed in the dash of my 1964 Daytona.
I also purchased a number of spare parts for the Daytona including an excellent full wheel cover and a nice left rear chrome tail lamp bezel. Neither of these items are available new from the usual vendors. In addition, I bought a spare blue arm rest, an interior window winding handle with a white knob to replace one that is scratched, and a complete courtesy light assembly, all for close to giveaway prices. Finally, I treated myself to a really nice 2018 Studebaker Calendar from Madd Doodler Publishing.
Since 2017 was the last year for the York Swap Meet, I really hope that the Reedsville Swap Meet will continue into the future. My understanding is that the Youth Park has been reserved for the next two years so it seems like a safe bet at least for a while.
---
DAN'S STUDEBAKER CROSSWORD PUZZLES
Dan Armstrong from Mansfield, Texas has created a number of crossword puzzles and games for car nuts. These are available on-line at Dan's Extreme Car Puzzles. Dan has a strong interest in Studebakers, particularly the 1956 Sky Hawk, the performance equipped 1963 Lark Daytona, and the performance equipped 1963 and 1964 GT Hawks. The Studebaker crosswords are copyright by Dan Armstrong and are used with his permission. Thanks to Dan for providing the link and the downloadable Studebaker crossword puzzles for readers of this page to enjoy.
---
Nick Bodemer's Studebaker Dealer Inventory Project was started in June 2011 and includes a growing number of pictures, articles, ads, and other items related to former Studebaker dealerships. Well worth a visit. If you have a Google account you can join the site through Google Friend Connect.
---
STUDE MISCELLANY
1964 Daytona Sedan Update


Reconfigured Exhaust Outlets


New Wheels and Tires

I am continuing to make improvements to 1964 Daytona Sedan that I acquired last summer. The first picture shows the car in my driveway with its fully retractable antenna in the extended position. The antenna is a "large base" type available from Woodys Custom Shop. This antenna looks like a normal antenna when extended but retracts all the way down into the fender well which greatly facilitates using a car cover. I have also added a 1964 Augusta County, Virginia county tag above the front license plate. I was fortunate to find one that had never been used on ebBy at a very reasonable price for such a rare item. I live in Augusta County, and while it is a large county, these county tags are much harder to find in unused condition than are year of manufacture state license plates. For now I am going to stick with my "64 Stude" Virginia antique tags but I have a nice set of unused 1964 state plates if I want to go that route.
The second picture shows the reconfigured rear dual exhaust outlets. I have removed the straight back rounded outlets that were on the car and replaced them with a pair of vintage Angelus Plating "Flying Rocket" turn-down exhaust extensions. The pair of NOS extensions unused in their original boxes was another eBay find. Angelus Plating of Los Angeles, California is still in business and making chrome and stainless steel exhaust extentions for a variety of applications. In order to use the Angelus extentions it was necessary to extend the tail pipes back which was not much of a problem as the existing pipes did just make it to exhaust the hangers. I am very pleased with the result as it looks period correct and keeps the exhaust gases away from the newly rechromed rear bumper. The Angelus extensions are heavier than the imported ones generally available from auto parts stores and the chrome finish is first rate.
The third picture shows the new 6" wide Wheel Vintiques 62 Series steel wheels and 205/75R15 Cooper Trendsetter SE narrow whitewall radial tires. The 1964 style full wheel covers work fine with these wheels but as an added precaution metal valve stems were used just in case any the hub caps "walk" a bit on the wheels which I understand has been known to happen. Indeed, when we made the switch, it was noted that more than one of the old rubber valve stems on the stock wheels had been pushed and partially cut into by a wheel cover. The wheels were balanced with weights all on the inside which can be hard to do but my installer was able to do it right. Now I don't have to be concerned about possible wheel failure due to the added stress placed on the wheels by radial tires. It was also nice to be able to use replacement wheels and replacement tires that were made in the U.S.
---
Did you know that Michael Kelly's New Avanti Motor Corporation signed a deal to produce the VW based Brazilian Puma Sports Car? I didn't think so! The deal fell through when Kelly ran out of money. To learn more about the Puma, visit my Puma Sports Cars Site.
---
Another Stude Model Collection
Liberty Classics 1922 Big Six Pickup


Liberty Classics Roadster and Pickup


Liberty Classics Panel Truck and Hearse


Jo-Han 1962 Lark Convertible

This is the fourth round of pictures from Jim Amado's Studebaker toy and model collection. Starting from the top, the Liberty Classics 1922 Studebaker Big Six Pickup is a modified Canadian Tire Corporation 75th Aniversary model. The load has been removed from the bed and a simulated wood floor has been installed in the pickup box. Here is an example of the stock issue model from my collection. This model was reissued in 2017 for the Canadian Tire Corporation's 95th Aniversary. The 2017 issue is all black rather than red with black trim. There are also a number of special "chase" versions of the 95th Aniversary Edition.
The Liberty Classiscs Studebaker Roadster may be termed a "business roadster" as it has a substantial trunk. The Liberty Classics Studebaker Pickup has been repainted black and its bed cover has been removed. The dark green Liberty Classics Studebaker Panel Truck and gold Liberty Classics Studebaker Hearse have also been repainted. The hearse awaits a more suitable repaint and more appropriately colored spokes for its wheels. These models were issued in a number of versions with model years ranging from 1914 to 1918. They are all nominally 1:25 scale and all are configured as coin banks.
The 1:25 scale plastic 1962 Lark Convertible was built from the Jo-Han "Snap Kit" version. As such, no glue was required for assembly nor did the model need to be painted as long as you wanted it to be blue. This example has been painted a light metallic brown and has very nicely detailed trim. The hub cab centers have also been painted and the steering wheel has been two-toned as would be correct for the real thing. This model also came as a fully assembled dealer promotional with a friction engine. This promotional example from my collection shows the lack of detail on the dealer promotional model.
Jim says that he has been a car nut ever since he can remember. He began tinkering with plastic models about fifty seven years ago and seriously building and collecting soon thereafter. Thirty eight years ago he opened a shop dealing in automotive related collectibles including scale models and automotive sales literature. It was a unique shop offering many unique products and services including custom built models of customer's vehicles. The shop closed in 2014 after 35 years in operation. Jim has published a number of articles in both scale model and automotive publications, the most recent appearing in the August 2017 issue of Toy Trucker & Contractor. More of Jim's collection can be seen here.
---
---
STUDE TOY OF THE MONTH
GFCC 1955 Studebaker Speedster







This 1:43 scale 1955 Studebaker President Speedster Hardtop is a new model from GFCC Toys. It is available in three color variations of which I ordered the "lemon and lime" version above. It is also available in two-tone light green and white and in three-tone pink, grey, and white. The model comes packed in a cardboard picture box. The reverse side of the box has a rear angle view of the model.
Jeff Scion of the UK, who collects 1:43 scale Studebaker coupes and hardtops, made me aware of this model. Jeff found it on the U.S. eBay site and purchased the light green and black version. Jeff notes that the dashboard and steering wheel in this model are mounted too low but it is otherwise a very nice model for the price. I purchased mine from a vendor in China for under $40 including postage.
GFCC Toys is located in Albany, New York with production taking place in China. The Speedster appears to be part of a number of issues of American and foreign collector cars in 1:43 scale. Other models in this series include a 1956 Buick Roadmaster Riviera 4-door Hardtop, a 1959 Pontiac Bonneville Convertible, and a Jaguar SS-1 Sports Saloon.
Thanks to Jeff for calling this model to my attention. Jeff's collection of 1:43 scale Studebaker Coupes and hardtops can be seen here.
More toy Studes can be found in the Stude Stuff area of this page and on my Studebaker Toys Home Page.
Click here for information on ordering hard to find Studebaker toys made by manufacturers such as Johnny Lightning, Racing Champions, Hot Wheels, Matchbox, Muscle Machines, Maisto, and EKO.
Studebaker Toy Treasures Book

Jim Geary's book Studebaker Toy Treasures is the standard reference collectors of Studebaker Toys. This wonderful book has 294 pages of color pictures and details on hundreds of Studebaker toys. Publication date is 2004 and just about every Studebaker toy and model produced up to that time is pictured and cataloged. Jim is making the book available for $28 plus $10 for shipping. Jim will sign the book if requested. This is a must for the serious Studebaker toy vehicle collector. Jim can be contacted at sanjim76@live.com or send payment to Jim Geary, 181 Allendale Hills Road, Franklin, NC 28734.
---
---
---
---
* * * This Page On Line Since October 1995 * * *
---
Published 2/1/2018