---
BILL
JACKAMEIT'S
STUDEBAKER
PAGE
---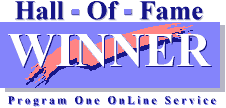 ---
---
Welcome fans of the pride of South Bend. I am a long-time Studebaker fan and Studebaker Drivers Club member, having owned a 1957 Silver Hawk in high school and a 1959 Lark Regal Hardtop in college. Since then, I have owned other Studes as hobby cars including a 1962 Champ Pickup, a 1964 Canadian Commander Special Sedan, a 1962 GT Hawk, a 1960 Lark Regal 4-door, a 1957 Silver Hawk (not the same one I owned in high school -- that one I wrecked) and a 1949 Champion Starlight Coupe. My current Studes are a 1964 Challenger Wagonaire Station Wagon with sliding roof and a 1964 Daytona Sedan. I will build this page as time allows. If you have any suggestions or comments, please send me a message. If you expeience a problem with the e-mail link, the address is wj2d44@gmail.com. Both text and image contributions are welcome.
---
STUDE OF THE MONTH
DECEMBER 2017
1964 Studebaker Avanti Coupe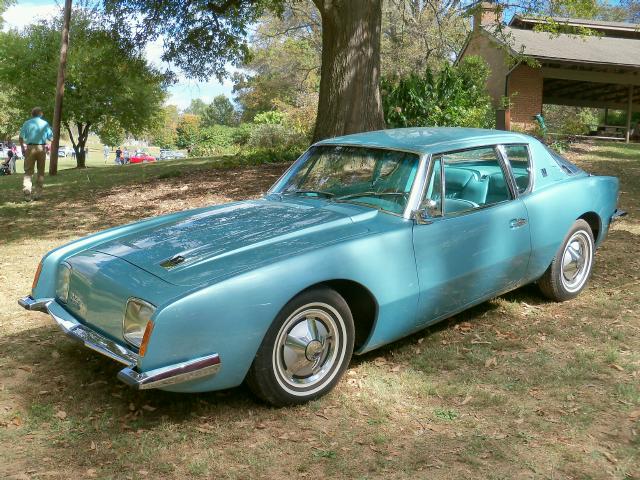 Rear Angle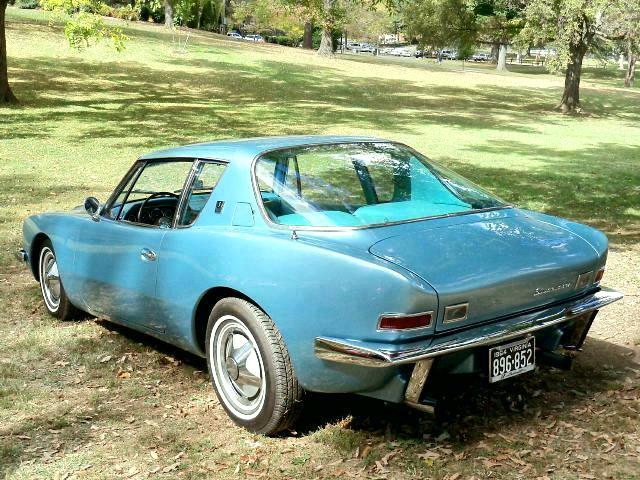 Side View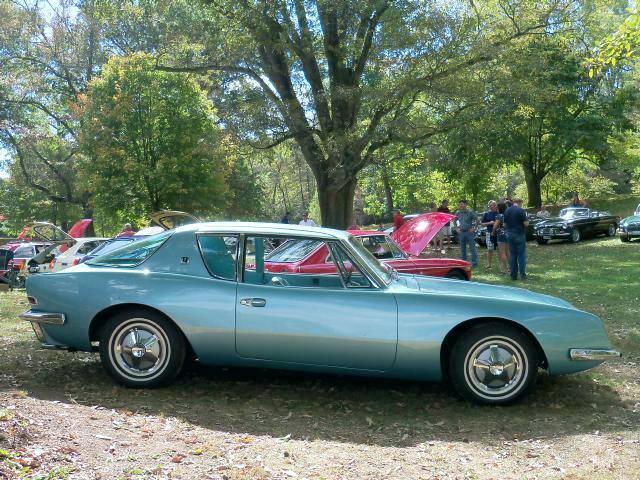 Passenger Side Angle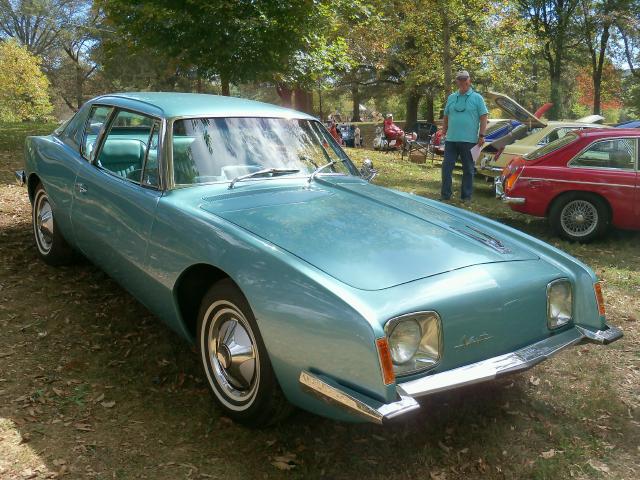 Interior and Dash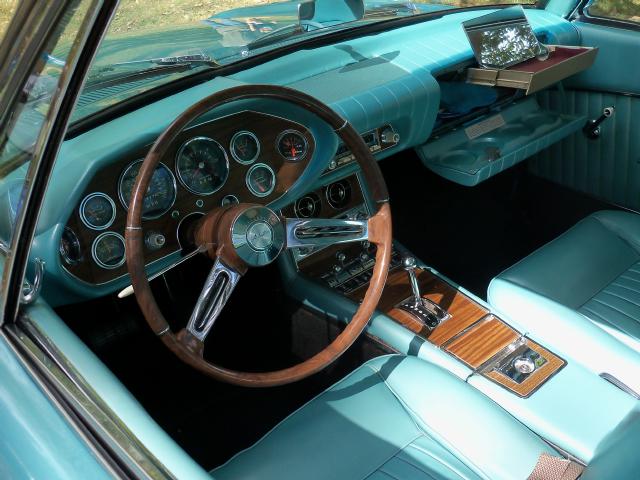 Under the Hood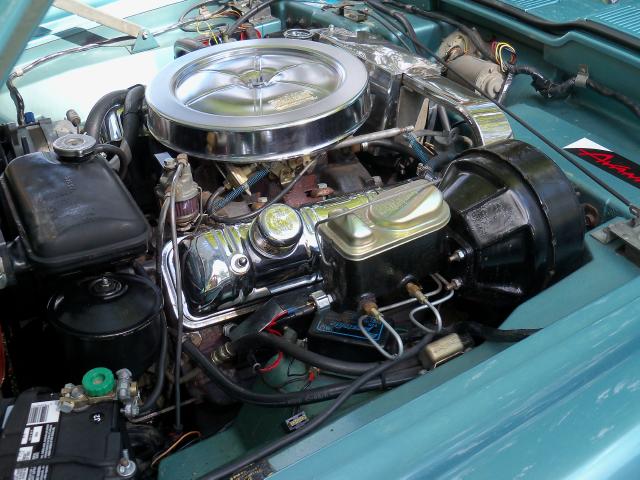 This outstanding 1964 Studebaker Avanti is owned by Bob and Chris Vitrikas of Barboursville, Virginia. The car is an R1 equipped with automatic transmission, factory air conditioning, power steering, power brakes, Twin Traction limited slip differential, and factory push-button AM radio. The original interior looks new as does the trunk compartment. The engine has the original decals on the air cleaner and oil breather caps. The engine was rebuilt at 76,000 miles and the brakes have been converted to a dual master cylinder system. Otherwise it appears to be a very original car. You would never know from looking at the car but Bob indicates that the current mileage is 110,000. The square headlight enclosures, solid color vinyl upholstery, and wood grain dash are features of late production Avantis.
Bob says that he spent several years looking for a turquoise Avanti with a turquiose interior. After several false starts, he found this one advertised in Hemmings Motor News. Bob called the owner only to learn that the car was committed to be sold at an auction in South Dakota in about a month. Not only did he have to wait a month, but he had never bought anything at auction. To further complicate the situation, Bob and Chris were leaving on a coast-to-coast tour with the Lincoln Highway Association the same day as the auction. Bob signed up as a telephone bidder and on the day of the auction was anxiously watching his cell phone as they drove through rural Michigan. After pulling over into a shopping center, the auction was over in two minutes and Bob and Chris owned the Avanti.
The car was sold originally owned by the Studebaker dealer in Lake Tahoe, California. It was sold to a local resident who kept the car for 38 years. The owner kept meticulous records and obviously cherished the Avanti, keeping it in as new condition while enjoying and driving it. The car then passed through a couple of owners who also cared for the car. One of the later owners had the misfortune to have the gas tank overflow thus staining the paint work. As a result, the car was repainted the original color. All of the glass and trim were removed, the body was taken down to bare fiberglass, the gel coat was redone, and a high quality paint job was applied. The car looks about as close to new as one can get.
The pictures were taken at the October 2017 Shenandoah Valley British Car Club Show in Waynesboro, Virginia. That is why there are a number of British cars in the background of some of the photos. For this event, SVBCC invited cars with "British DNA" and the Avanti qualified by virtue of its Dunlop designed disc brakes which were basically the same as those used by Jaguar and Aston Martin. As used on the Avanti, they were produced under license by Bendix which convieniently was also located in South Bend. Bob's Avanti was awarded a first in Class at the October show.
Thanks to Bob Vitrikas for providing the information on this beautiful Avanti
If you own or once owned a Studebaker or related vehicle and would like to see your car as "Stude of the Month" or in the "Cool Studes" section, or if you have other pictures or material that you would like to contribute to this page, please e-mail me here at wj2d44@gmail.com. I can accept either electronic or hard copy images. The Main Page is issued every other month so the next edition will be February 2018.
---
All of the previous editions of the Main Page going back to October 1995 have been reposted. In the process of reposting the pages, I have made corrections and revisions as needed, and in some cases added material that was not used when a page was first posted due to download speed and file storage limitations. A complete list of Main Pages and Studes of the Month with links to each is located here.
If you have a particular interest in Bullet Nose Studebakers, visit Bill Junge's Bullet Nose Paradise which is dedicated to the 1950 and 1951 Bullet Nose models.
---
2014 INTERNATIONAL MEET
DOVER, DELAWARE
BONNEVILLE SPEED WEEK
STUDEBAKER SALT FLATS RACERS
STUDEBAKER NATIONAL MUSEUM
PICTURES FROM MY VISIT
VIRGINIA MUSEUM OF
TRANSPORTATION STUDEBAKERS
---
TEST YOUR STUDEBAKER KNOWLEDGE!
---
Seen at the Reedsville Swap Meet
1951 Commander Starlight Coupe


Rear Angle View


Front View


1950 Convertible Street Rod


Rear Angle View


Rear View

This year's Reedsville Studebaker Swap Meet was held on Friday, October 27 and Saturday, October 28. As usual, the meet was sponsored by the Manhattan Chapter of the Studebaker Drivers Club and was held at the Mifflin County Youth Park. I drove up to Reedsville on Friday and was glad that I made the trip. The Reedsville Meet is not as large as the York Meet and the facility is more modest but it is more than adequate for the purpose. Reedsville seems to attract smaller vendors and prices on most items were reasonable. The two Bullet Nose cars above were among a number of Studebakers seen on the grounds.
The light yellow 1951 Commander Starlight Coupe belongs to Brad Johnson of the Keystone Chapter of SDC. It is is a well-optioned example with an exterior windshield visor and rear window venetian blinds. The latter were somewhat popular in the 1950's and early 1960's particularly in hot weather states. Brad has owned this car for over 30 years and has even used it off and on as a daily driver. The paint is just a shade lighter than the original Sahara Sand. Brad's 1933 Rockne Model 10 Sedan appeared on this page in February 2008.
The red 1950 Champion Convertible with West Virginia license plates is a modified car with alloy wheels, modern radial tires, and the front bumper removed. The Studebaker crest on the hood has been replaced with a "V8" emblem which suggests that the original flathead six has been supplanted by a V8 of some sort. The rear wheels and tires appear to be quite a bit wider than in the the front. I was not able to ascertain the owner of the red car but if a reader can provide that information I will update the page accordingly.
My main purchase was a nice used AC-3473 manual tune AM Radio complete with knobs and face plate. I bought it for my 1964 Daytona which came from the factory without a radio. It is identical to the radio in my 1964 Challenger Wagonaire. The vendor selling radios had a setup with a battery, antenna, and speaker so that a radio could be tested before purchase. This one worked fine and after some haggling I was able to purchase it for $50 which I consider a very good buy. Here is the radio installed in the dash of my 1964 Daytona.
I also purchased a number of spare parts for the Daytona including an excellent full wheel cover and a nice left rear chrome tail lamp bezel. Neither of these items are available new from the usual vendors. In addition, I bought a spare blue arm rest, an interior window winding handle with a white knob to replace one that is scratched, and a complete courtesy light assembly, all for close to giveaway prices. Finally, I treated myself to a really nice 2018 Studebaker Calendar from Madd Doodler Publishing.
Since 2017 was the last year for the York Swap Meet, I really hope that the Reedsville Swap Meet will continue into the future. My understanding is that the Youth Park has been reserved for the next two years so it seems like a safe bet at least for a while.
---
DAN'S STUDEBAKER CROSSWORD PUZZLES
Dan Armstrong from Mansfield, Texas has created a number of crossword puzzles and games for car nuts. These are available on-line at Dan's Extreme Car Puzzles. Dan has a strong interest in Studebakers, particularly the 1956 Sky Hawk, the performance equipped 1963 Lark Daytona, and the performance equipped 1963 and 1964 GT Hawks. The Studebaker crosswords are copyright by Dan Armstrong and are used with his permission. Thanks to Dan for providing the link and the downloadable Studebaker crossword puzzles for readers of this page to enjoy.
---
Nick Bodemer's Studebaker Dealer Inventory Project was started in June 2011 and includes a growing number of pictures, articles, ads, and other items related to former Studebaker dealerships. Well worth a visit. If you have a Google account you can join the site through Google Friend Connect.
---
STUDE MISCELLANY
Daytona Sedan and Challenger Wagonaire


From the Rear

The pictures above show the slight difference in color between my recently acquired 1964 Daytona Sedan and my 1964 Challenger Wagonaire. The Wagonaire is the correct Laguna Blue. The Sedan is a shade darker. Both have had a single repaint but for some reason a previous owner of the Daytona decided to change the color a bit. Still, the Daytona has too nice a paint job to have it redone particularly since it is more a nice driver than a show car. There are some advantages to that approach. For one, the Wagonaire has correct Firestone bias ply tires while the Daytona has modern radial tires. Also, I have replaced the original 4 1/2" wide wheels on the Daytona with 6" wide Wheel Vintiques 62 Series steel wheels. These wheels work fine with the 1964 full wheel covers and I don't have to be concerned about possible wheel failure due to the added stress placed on the wheels by radial tires.
In the process of adding a radio to the Daytona I installed fully retracting antennas on both cars. It turns out that the existing antenna hole on the Wagonaire was in exactly the right place for the retracting antenna to fit in the fender well. So I used the placement on the wagon to install the same type antenna on the sedan. Here is a picture of the antenna on the Daytona. The small black cap on the tip comes off to reveal a shinny silver tip and the antenna itself is a four-section telescoping unit that looks correct when extended. Having this type antenna makes it much easier to put covers on the cars. The antenna I used on both cars is a "large base" type available from Woodys Custom Shop.
---
Did you know that Michael Kelly's New Avanti Motor Corporation signed a deal to produce the VW based Brazilian Puma Sports Car? I didn't think so! The deal fell through when Kelly ran out of money. To learn more about the Puma, visit my Puma Sports Cars Site.
---
Another Stude Model Collection
Ertl 1939 Texaco Tank Truck


Signature Models 1928 Studebaker Fire Truck


Revell 1910 Studebaker Electric


Jo-Han 1959 Lark Hardtop Promotional

This is the third round of pictures from Jim Amado's Studebaker toy and model collection. Starting from the top, the Texaco Tank Truck was made by Ertl and was sold as a 1939 model in 1:25 scale. It was number 22 in a series of Texaco Tankers. Jim contends that it more accurately resembles an earlier model truck and is closer to 1:32 scale. This model was available in normal Texaco red and in a less realistic special "red chrome" edition.
The 1928 Studebaker Fire Truck is a Signature Model made by Yat Ming. It is 1:32 scale and is nicely detailed including various ladders, hoses, and a hood that opens to reveal a detailed engine. Yat Ming makes a number of Studebaker models in various scales incuding a 1937 Coupe Express, 1950 Champion Starlight Coupe, 1958 Golden Hawk, and a 1963 Avanti.
The 1910 Studebaker Electric is a built Revell plastic model kit. It is part of the Highway Pioneer quick construction kit series based on designs by the British toy company Gowland and Gowland. It is 1:32 scale and was originally issued in the early 1950's. This model was reissued by Minicraft Models in the early 1990's. Gowland and Gowland is also known for a series of ships in a bottle kits.
The 1959 Lark Hardtop is a dealer promotional made by Jo-Han Models of Detroit, Michigan. This model did not come with an interior. It is nominally 1:25 scale but is likely a bit larger scale since tyhe Lark was a relatively small car. Jo-Han promotionals from this period are prone to warping and window crazing over time. This example has been repainted and an interior from a 1962 Lark plastic model kit has been added.
Jim says that he has been a car nut ever since he can remember. He began tinkering with plastic models about fifty seven years ago and seriously building and collecting soon thereafter. Thirty eight years ago he opened a shop dealing in automotive related collectibles including scale models and automotive sales literature. It was a unique shop offering many unique products and services including custom built models of customer's vehicles. The shop closed in 2014 after 35 years in operation. Jim has published a number of articles in both scale model and automotive publications, the most recent appearing in the August 2017 issue of Toy Trucker & Contractor.
I'll be adding more models from Jim's collection to this page as space allows. More of Jim's collection can be seen here.
---
---
STUDE TOY OF THE MONTH
M2 Machines 1949 Studebaker Army Tow Truck





M2 Machines recently issued another military version of its 1:64 scale Studebaker C Cab casting. This one is a 1949 Studebaker 2R Tow Truck in U.S. Army markings. As with other models in the premium Auto-Trucks Series it comes packed in a plastic display case inside a cardboard window box. M2 Machines previously issued a 1949 2R Army Pickup Truck with a covered back that was featured as Stude Toy of the Month on this page in December 2016. The tow truck is a limited edition of 5,880 pieces which is fewer than the 9,800 pieces for the covered back.
M2 Machines has also issued an Auto-Projects version of the 1949 2R Army Pickup with covered back. Auto-Projects issues are rusted and primed and are typically more limited production. In this case, only 3,880 pieces were produced. Both versions of the military covered back truck are flat military green while the tow truck is a glossy military green. I do not know if any 1949 Studebaker 2R trucks were actually used by the U.S. Army but these are nice military models in any event.
M2 Machines has issued numerous versions of the Studebaker C Cab truck. These include pickups with and without a covered back as well as tow trucks, stake beds, and a version with a utilty box. They range from 1949 2R models to 1954 3R models with appropriate changes to the grille and trim. Most versions are only available for a few months as M2 Machines is constantly updating its offerings.
Several versions of the M2 Machines C Cab have been featured as the Stude Toy of the Month on this page. These include a 1954 3R tow truck in April 2011, a 1951 2R utility bed in December 2012, a 1951 2R stake bed in April 2013, and a 1954 3R pickup in December 2013.
More toy Studes can be found in the Stude Stuff area of this page and on my Studebaker Toys Home Page.
Click here for information on ordering hard to find Studebaker toys made by manufacturers such as Johnny Lightning, Racing Champions, Hot Wheels, Matchbox, Muscle Machines, Maisto, and EKO.
Studebaker Toy Treasures Book

Jim Geary's book Studebaker Toy Treasures is the standard reference collectors of Studebaker Toys. This wonderful book has 294 pages of color pictures and details on hundreds of Studebaker toys. Publication date is 2004 and just about every Studebaker toy and model produced up to that time is pictured and cataloged. Jim is making the book available for $28 plus $10 for shipping. Jim will sign the book if requested. This is a must for the serious Studebaker toy vehicle collector. Jim can be contacted at sanjim76@live.com or send payment to Jim Geary, 181 Allendale Hills Road, Franklin, NC 28734.
---
---
---
---
* * * This Page On Line Since October 1995 * * *
---
Published 12/1/2017