---
BILL
JACKAMEIT'S
STUDEBAKER
PAGE
---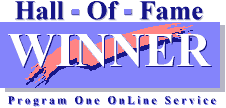 ---
---
Welcome fans of the pride of South Bend. I am a long-time Studebaker fan and Studebaker Drivers Club member, having owned a 1957 Silver Hawk in high school and a 1959 Lark Regal Hardtop in college. Since then, I have owned other Studes as hobby cars including a 1962 Champ Pickup, a 1964 Canadian Commander Special Sedan, a 1962 GT Hawk, a 1960 Lark Regal 4-door, a 1957 Silver Hawk (not the same one I owned in high school -- that one I wrecked) and a 1949 Champion Starlight Coupe. My current Studes are a 1964 Challenger Wagonaire Station Wagon with sliding roof and a 1964 Daytona Sedan. I will build this page as time allows. If you have any suggestions or comments, please send me a message. If you expeience a problem with the e-mail link, the address is wj2d44@gmail.com. Both text and image contributions are welcome.
---
STUDE OF THE MONTH
JUNE 2019
1934 Studebaker Dictator Land Cruiser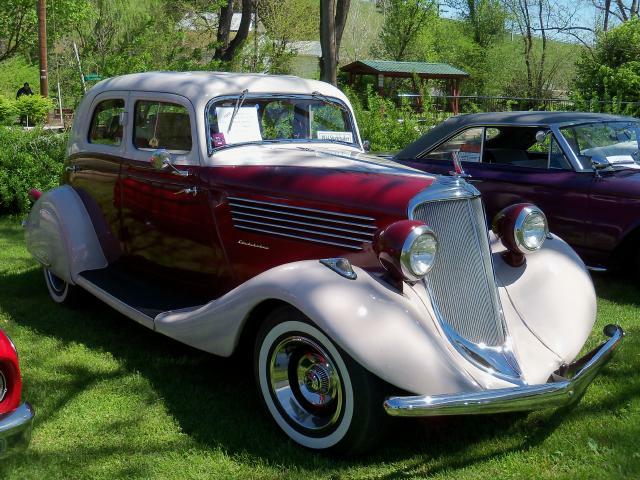 Front View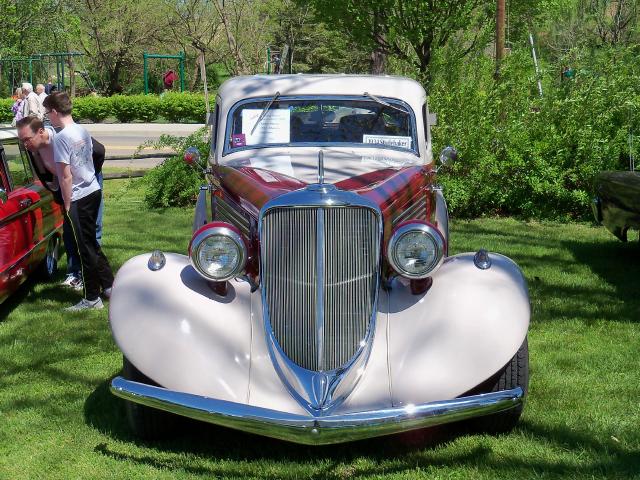 Rear Angle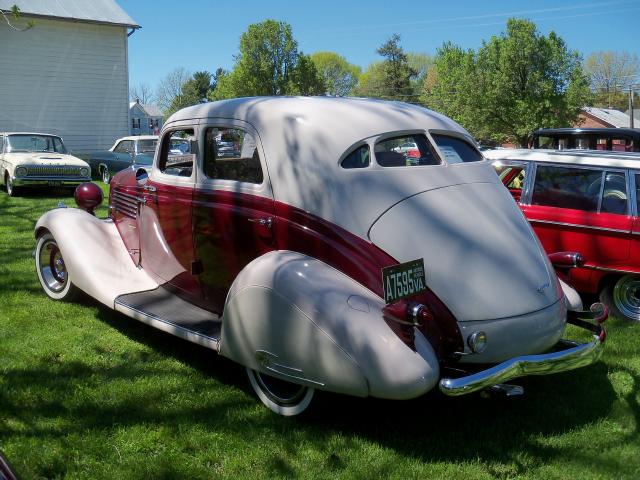 Folding Hood Up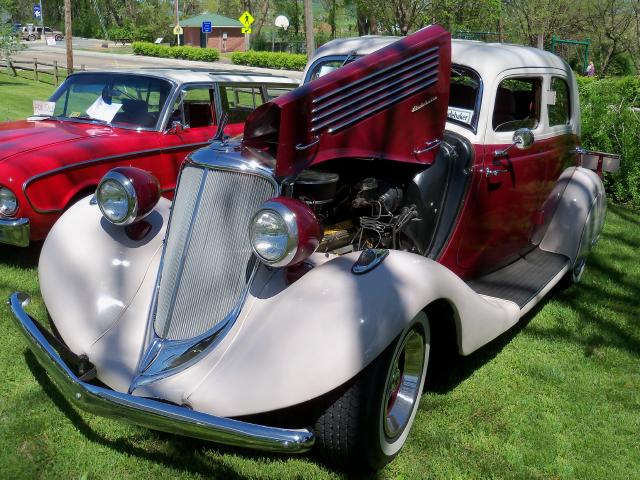 Interior and Dash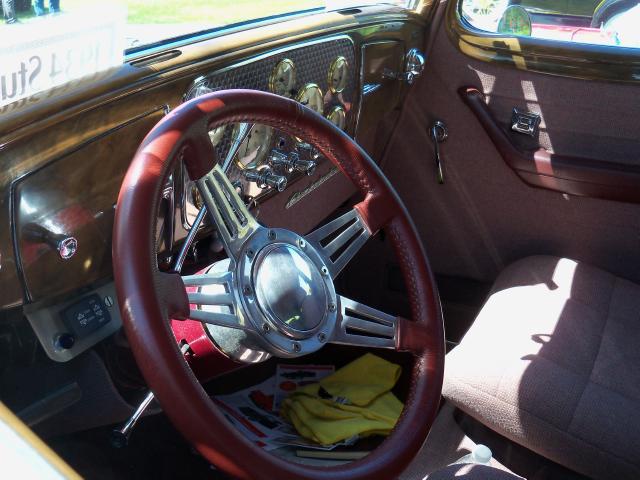 Back Seat Area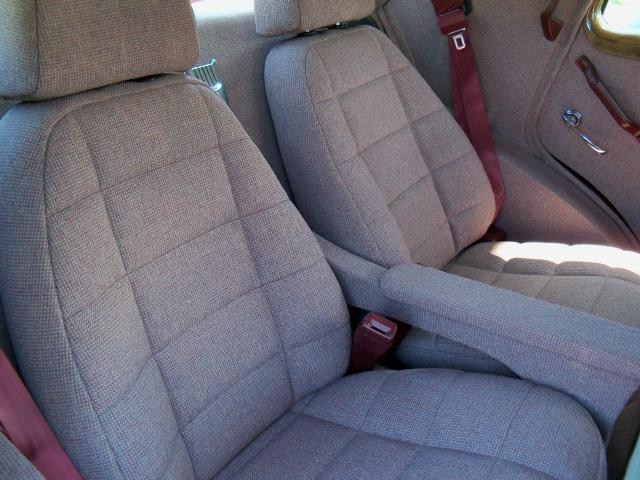 Under the Hood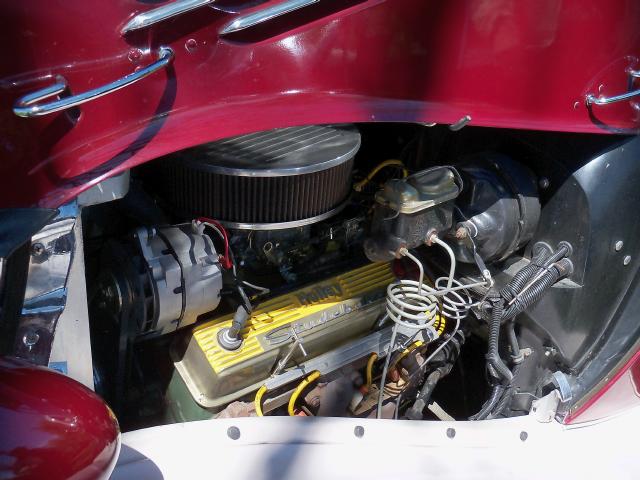 Flying Goose Radiator Cap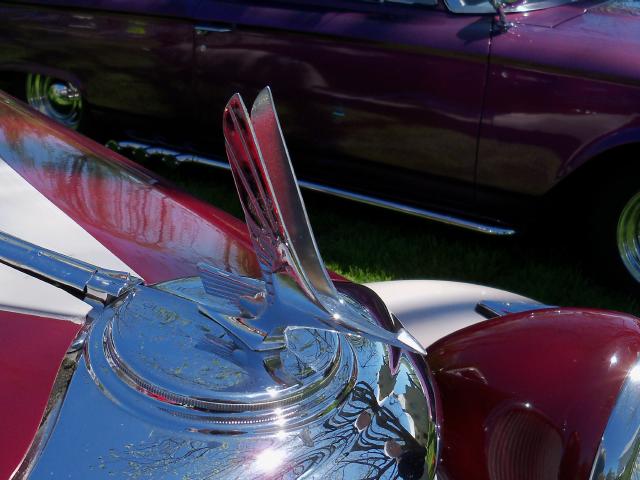 This beautiful 1934 Studebaker Dictator Land Cruiser is owned by Chester and Nancy Bradfield of Bridgewater, Virginia. The Bradfield's Land Cruiser can be described as a "Restomod" in that it combines an original classic body with a modern drivetain and other modern features while retaining the appearence of a classic car. Other than having modern wheels and tires it appears on the outside as it might have looked in 1934.
The modernized drivetrain includes a rebuilt 1968 Corvette 327 cubic inch V8 and a Turbo-Hydramatic 350 automatic transmission and rear end from a 1974 Chevy Nova. The car rides on 8" wide Chevy Rally Wheels and the springs were custom made by Eaton Detroit Spring. The front end is Mustang II type from Fatman Fabrications and the steering is Mustang II rack and pinion. The brakes are Chevy Nova with 1970's Mustang master cylinder and Chrysler brake cylinders.
The seats front and rear are reupholstered 1990's Jeep Cherokee front seats and the armrests and door pulls are from various Japanese makes. The beautiful engine turned dasboard came from Hanline Products. The steering column is from a 1968 Ford Thunderbird and the dashboard switches are early Ford Mustang. The interior lights are from a Ford Taurus and are operated by switches on the front doors. Controls for heating and air conditioning are discretly located in the passenger side glove box.
The streamlined 1934 Studebaker Land Cruiser was available as a Dictator, Commander, or President with the Dictator being the least expensive. Much of the design work was done before Studebaker sold Pierce-Arrow and was clearly influenced by the Pierce-Artrow Silver Arrow. The Land Cruiser body was Studebaker's prestige car and was featured prominently in magazine advertising, Land Cruisers were priced about 15 percent higher than standard four-door sedans.
A total of 407 Dictator Land Crusiers were produced in 1934 with only two known survivors including this car. The Bradfields purchased the Land Cruser in 2005 and are the fourth owners. The pictures were taken the April 2019 Dayton Rosebud Festival Cruise-in at the Heritage Museum in Dayton, Virginia.
Chester and Nancy own a number of fine Studebakers including several which have appeared as Stude of the Month on this page. Thanks to Chester for providing information regarding this cool 1934 Studebaker Dictator Land Cruiser.
If you own or once owned a Studebaker or related vehicle and would like to see your car as "Stude of the Month" or in the "Cool Studes" section, or if you have other pictures or material that you would like to contribute to this page, please e-mail me here at wj2d44@gmail.com. I can accept either electronic or hard copy images. The Main Page is issued every other month so the next edition will be August 2019.
---
All of the previous editions of the Main Page going back to October 1995 have been reposted. In the process of reposting the pages, I have made corrections and revisions as needed, and in some cases added material that was not used when a page was first posted due to download speed and file storage limitations. A complete list of Main Pages and Studes of the Month with links to each is located here.
If you have a particular interest in Bullet Nose Studebakers, visit Bill Junge's Bullet Nose Paradise which is dedicated to the 1950 and 1951 Bullet Nose models.
---
2014 INTERNATIONAL MEET
DOVER, DELAWARE
BONNEVILLE SPEED WEEK
STUDEBAKER SALT FLATS RACERS
STUDEBAKER NATIONAL MUSEUM
PICTURES FROM MY VISIT
VIRGINIA MUSEUM OF
TRANSPORTATION STUDEBAKERS
---
TEST YOUR STUDEBAKER KNOWLEDGE!
---
MORE FROM REEDSVILLE
Round Headlight Avanti Coupe


Side View


Rear Angle


Rear view

This very attractive 1963 Studebaker Avanti with Pennsylvania antique vehicle plates was spotted in the parking area. The round headlights identify it as a 1963 model. The exterior color is Avanti Gold and the interior is Fawn on the dasboard, upper door panels, and rear shelf and Elk on the seats and center door panels. These colors were unique to the Avanti and were not available on GT Hawks and Larks. This is an R1 powered car as it lacks the side emblem that appear on Avantis equipped with a supercharger.
This looks very much like the 2019 Potomac Region SDC Raffle Car but it has a different Pennsylvania antique vehicle license plate than the car in the Raffle Car pictures on the Web so it may be a different car. Gold was a popular exterior color on Avantis. If someone can identify the owner of this attractive Avanti I will update the page to reflect that information.
The 2018 Mifflin County Studebaker Swap Meet, formerly the Reedsville Studebaker Swap Meet, was held on Friday, October 19 and Saturday, October 20 at the Mifflin County Youth Park. The name change results from the fact that the event is no longer sponsored by the Manhattan Chapter of SDC. Thankfully the good folks at Corkins Auto Repair were able to keep the event going. I drove up on Friday and was pleased to see that there were quite a few Studebakers of various types parked on the grounds. The weather was not a problem with mostly sunny skies and mild temperatures. Additional pictures of interesting Studebakers at the event will appear in the next issue of this page.
This year's event will be held on October 25 and 26, 2019. Now that the Studebaker York Swap meet is no more, the event at Reedsville is my best chance to find parts without making an overnight trip.
---
DAN'S STUDEBAKER CROSSWORD PUZZLES
Dan Armstrong from Mansfield, Texas has created a number of crossword puzzles and games for car nuts. These are available on-line at Dan's Extreme Car Puzzles. Dan has a strong interest in Studebakers, particularly the 1956 Sky Hawk, the performance equipped 1963 Lark Daytona, and the performance equipped 1963 and 1964 GT Hawks. The Studebaker crosswords are copyright by Dan Armstrong and are used with his permission. Thanks to Dan for providing the link and the downloadable Studebaker crossword puzzles for readers of this page to enjoy.
---
Nick Bodemer's Studebaker Dealer Inventory Project was started in June 2011 and includes a growing number of pictures, articles, ads, and other items related to former Studebaker dealerships. Well worth a visit. If you have a Google account you can join the site through Google Friend Connect.
---
STUDE MISCELLANY
1951 Champion Rod from New Zealand


Rear Angle View


From the Front


Interior and Dash


Under the Hood

This cool 1951 Studebaker Champion Street Rod was built by Trevor Halstead of Hamilton, New Zealand. Information provided by Dianne Halstead indicates that Trevor has owned this car since 1972. During Trev's 37 years of ownership the car had three major ground-up rebuilds. Somewhat unusual is that it is now a chopped four-door sedan rather than a two-door or coupe. The roof has been chopped 3" and all of the brightwork except for the nose bullet and door handles has been removed. The center of the bullet is chrome plated cast brass in place of the original silver plastic. The custom mix gold paint is Lucite L400 acrylic lacquer followed by clear lacquer.
A 1950 Studebaker hood was extended to mate with the 1951 center bullet and welded to the front fenders making a single unit. This allows for a tilt front giving excellent access to the engine. All of the door corners have been radiused and the rear fenders are welded to the body eliminated any seams. The original cardboard parcel shelf was refabricated in steel to tie the back of the body shell together. All four wheel openings have been opened up to allow for larger wheels and tires. The rear bumper is the original narrowed with the bumper bolts shaved. Tail lights are recessed 1959 Cadillac tail lenses two on each side.
Trevor's rod is powered by a modified Chevy 427 bored to 439 cubic inches with an Isky Suprcam and TRW hypereutectic pistons. Fuel is supplied by a four barrel Holley 750 carburetor and an electric fuel pump mounted in the trunk. The intake manifold is an Edlebrook Performer unit and the rocker covers are early Weiand. The transmission is a rebuilt Turbo-Hydramatic 400 automatic connected to a 1963 Dodge Dart rear end. The starter and distributor are standard Chevrolet and the alternator is from a Holden Commodore. Front suspension is from a 1962 GT Hawk with a 1965 Studebaker steering box splined to a Datsun 280Z steering column through a flexible joint.
The original dash was completely rebuilt retaining only the top section and glove box. Instruments including the speedometer and tachometer are Datsun 280Z and a 1956 Studebaker horn button has been incorporated into the steering wheel. A modern radio is incorporated into the custom steel center console with speakers hidden in the front doors and parcel shelf. The front bucket seats are from a Honda Civic K20 Coupe while the rear seat was custom fabricated. The seats, door panels, and headliner were done beautifully by Midnight Upholstery Ltd. The interior handles and fittings are Studebaker items from several years 1947 to 1955 with turned alloy knobs.
Trevor Halstead is a professional restorer and builder of Studebakers and other makes. Trev's 1953 Studebaker Starlight Street Rod was Stude of the Month on this page in October 2014 and his 1951 Champion Street Rod in an earlier iteration and award winning 1952 Commander appeared on this page in August 2008 in a piece on New Zealand Studebakers.
Trev has supplied the complete story of the car. Thanks to Dianne Halstead for sending the pictures and information regarding Trev's very cool Bullet Nose Studebaker.
---
---
STUDE TOY OF THE MONTH
Walmart Exclusive Hot Wheels Studebaker Champ







This version of the Hot Wheels 1963 Studebaker Champ Pickup is one of ten trucks in the recently issued Hot Wheels Walmart Exclusive Series of ten American pickup trucks. All ten are previously issued castings with new color schemes and special card art. These retail for $2.14 each which is about double the cost of a regular issue Hot Wheels vehicle. The Walmart Exclusive '63 Champ comes on a plain light blue and white blister card that indicates it is number 10 of 10 in the series. It is painted white with black and red trim and has "Studebaker" printed on the side of the pickup box. The wheels are black with no chrome trim or lettering on the tires.
The Hot Wheels Studebaker Champ first appeared in the 2011 New Models Series in red as featured on this page in June 2011. Later that year it was issued in metallic aqua and finally in yellow. All three of the 2011 New Models colors had "Goodyear Eagle" lettering on the tires. It reappeared in 2015 in the HW Workshop Series in blue with flames on the sides and yellow trimmed wheels. Several more expensive versions have also been issued including Nostalgic Brands Hershey's Whatchamacallit, Boulevard Legends, and Pop Culture DC Comics The Joker. The 2016 Hot Wheels Collectors Special Edition in metallic red and black in a plastic display case came at a cost of $19.95 when issued.
All versions of the Hot Wheels Studebaker Champ appear regularly on eBay. Prices range from a couple of dollars for the regular issues to $30 or more for the Hot Wheels Collectors model with display case. The Boulevard Legends Champ with Real Riders Wheels seems to appear less often than the others and has been rising in price.
More toy Studes can be found in the Stude Stuff area of this page and on my Studebaker Toys Home Page.
Click here for information on ordering hard to find Studebaker toys made by manufacturers such as Johnny Lightning, Racing Champions, Hot Wheels, Matchbox, Muscle Machines, Maisto, and EKO.
Studebaker Toy Treasures Book

Jim Geary's book Studebaker Toy Treasures is the standard reference collectors of Studebaker Toys. This wonderful book has 294 pages of color pictures and details on hundreds of Studebaker toys. Publication date is 2004 and just about every Studebaker toy and model produced up to that time is pictured and cataloged. Jim is making the book available for $28 plus $10 for shipping. Jim will sign the book if requested. This is a must for the serious Studebaker toy vehicle collector. Jim can be contacted at sanjim76@live.com or send payment to Jim Geary, 181 Allendale Hills Road, Franklin, NC 28734.
---
My Current 1964 Daytona Sedan on the
September 2018 Turning Wheels Back Cover.
---
---
---
* * * This Page On Line Since October 1995 * * *
---
Published 6/1/2019