---
BILL
JACKAMEIT'S
STUDEBAKER
PAGE
---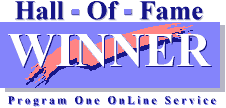 ---
---
Welcome fans of the pride of South Bend. I am a long-time Studebaker fan and Studebaker Driver's Club member, having owned a 1957 Silver Hawk in high school and a 1959 Lark Regal Hardtop in college. Since then, I have owned other Studes as hobby cars including a 1962 Champ Pickup, a 1964 Canadian Commander Special, a 1962 GT Hawk, a 1960 Lark Regal 4-door, a 1957 Silver Hawk (not the same one I owned in high school -- that one I wrecked) and a 1949 Champion Starlight Coupe. My current Stude is a 1964 Challenger Wagonaire sliding roof station wagon. I will build this page as time allows. If you have any suggestions or comments, please send me a message. Both text and image contributions are welcome.
---
STUDE OF THE MONTH
AUGUST 2015
1941 Studebaker Commander Cruising Sedan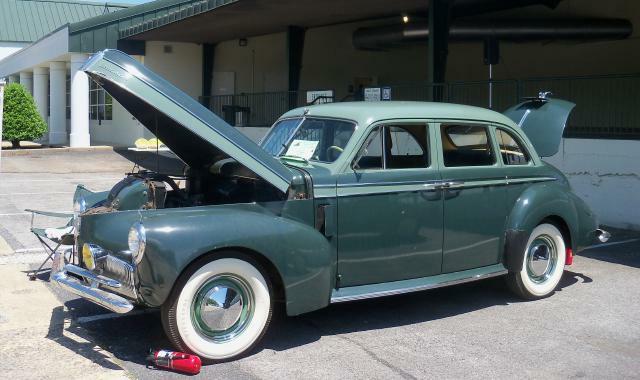 Rear Angle View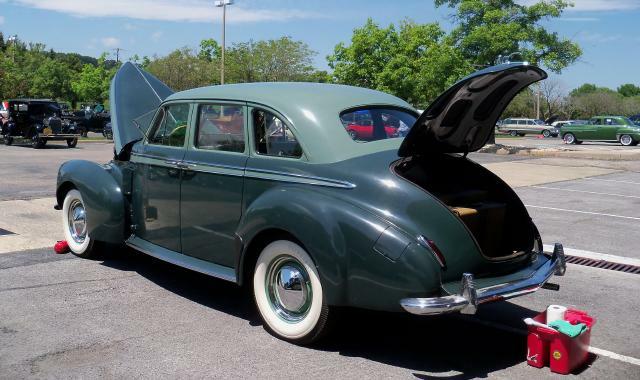 Period Luggage in Trunk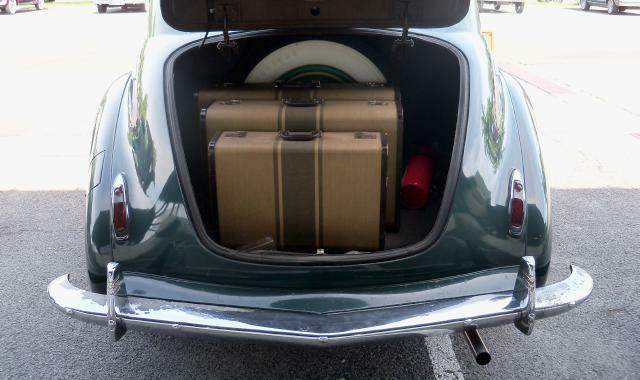 Interior and Dash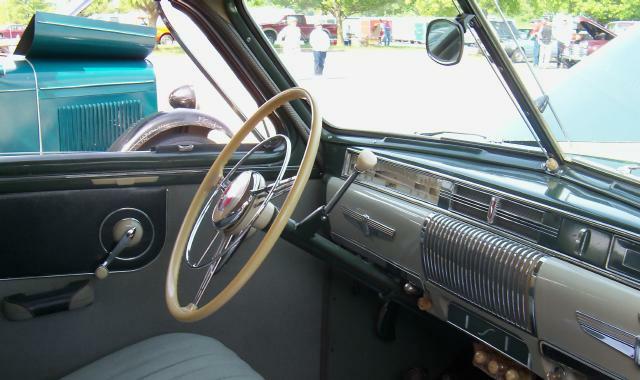 Under the Hood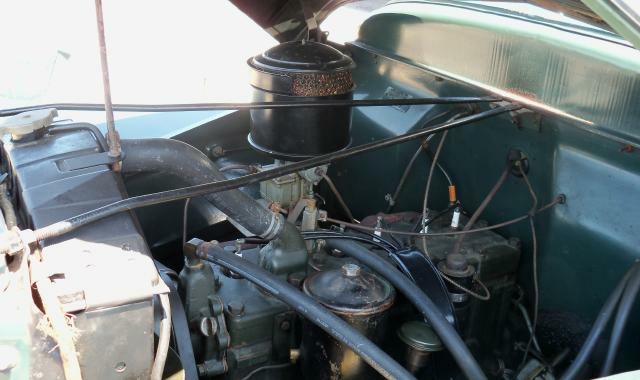 This excellent original 1941 Studebaker Commander Cruising Sedan belongs to Eric Kirk of Winchester, Virginia. It has the very attractive "Delux-Tone" trim with contrasting body belt accent panel painted to match the roof. Eric's Commander has its origional paint and original interior and has won both AACA and ODMA Historic Preservation Original Features (HPOF) awards. And this car gets around. It was at the Studebaker Drivers Club 2009 Atlantic Zone Meet in Harrisonburg, Virginia and the 2014 Studebaker Drivers Club International Meet in Dover, Delaware. Here is a shot of the car's beautiful banjo style steering wheel and here is a front view showing the single accessory fog lamp which Studebaker referred to as an "adverse weather light" for advertising purposes.
In 1941 Studebaker offered two styles of 4-door sedan in the Commander and President lines. The Cruising Sedan featured "suicide doors" in the rear as on Eric's car and the Land Cruiser Sedan featured standard doors front and rear. For those who may not know the term, a suicide door is hinged at the rear rather than the front. This made it possible for the door to be forced open and back against the car by airflow if the door was not securely latched. The advantage of rear-hinged doors is that they make entering and exiting a vehicle easier allowing a passenger to enter by turning to sit and exit by stepping forward and out. Plus they look really cool.
The pictures were taken at the 62nd Annual ODMA Meet held May 2015 in Verona, Virginia. The meet was hosted by the Waynesboro-Staunton Region of the AACA. The Old Dominion Meet Assocation is the only non-governing association of its kind in the AACA. Judging criteria and awards follow those of the AACA with some exceptions. The ODMA consists of 14 AACA regions throughout Virginia.
If you own or once owned a Studebaker or related vehicle and would like to see your car as "Stude of the Month" or in the "Cool Studes" section, or if you have other pictures or material that you would like to contribute to this page, please e-mail me here. I can accept either electronic or hard copy images. The Main Page is issued every other month so the next edition will be October 2015.
---
All of the previous editions of the Main Page going back to October 1995 have been reposted. In the process of reposting the pages, I have made corrections and revisions as needed, and in some cases added material that was not used when a page was first posted due to download speed and file storage limitations. A complete list of Main Pages and Studes of the Month with links to each is located here.
If you have a particular interest in Bullet Nose Studebakers, visit Bill Junge's Bullet Nose Paradise which is dedicated to the 1950 and 1951 Bullet Nose models.
---
2014 INTERNATIONAL MEET
DOVER, DELAWARE
BONNEVILLE SPEED WEEK
STUDEBAKER SALT FLATS RACERS
ELECTRIC POWERED 1950
STUDEBAKER PICKUP TRUCK
STUDEBAKER NATIONAL MUSEUM
PICTURES FROM MY VISIT
VIRGINIA MUSEUM OF
TRANSPORTATION STUDEBAKERS
---
TEST YOUR STUDEBAKER KNOWLEDGE!
---
More International Meet Pictures
1963 Studebaker Lark Daytona Convertable


A Second View

This sharp 1963 Studebaker Lark Daytona Convertibe belongs to Allen Anderson of Oakville, Ontario. It is an R1 powered car as indicated by the emblem in the front grille. The R1 is a normally aspirated 289 V8 rated at 240 horsepower. It was first used in 1963 and was the standard engine in the Avanti. A relatively small number of Larks were optionally equipped with this engine. Studebaker only made 1,015 convertibles for the 1963 model year so this is a very rare car.
Allen's Daytona was registered as display only so it was not judged.
1963 Studebaker Lark Regal Wagonaire

This attractive two-tone 1963 Lark Regal Wagonaire belongs to Glenn and Susan Lauver of Ocean Pines, Maryland. The Lauver's Wagonaire was "self-restored" according to its identification card. It is powered by a Studebaker 259 cubic inch V8. The Regal was the middle trim level Studebaker station wagon for the 1963 model year. Factory two-tone paint treatments were not available on Wagonaires but dealers sometimes applied them to meet customer demands.
The Lauver's Wagonaire was registered as display only so it was not judged.
1957 Packard Clipper Town Sedan


Rear Angle View


Rear View

This beautiful 1957 Packard Clipper Town Sedan belongs to Hal and Kathy Hermann of Fairfax, Virginia. The Hermanns are long-time owners of this outstanding car. It first appeared on this page in October 1998 and again in February 2008. The 1957 Clipper was based on the Studebaker President and used the supercharged 275 horsepower 289 cubic inch V8 from the Studebaker Golden Hawk. This kept horsepower the same as the 1956 Clipper. Interiors were upgraded and Packard styling features including front bumper bullets and 1956 Clipper tail lamps were added to the body.
The Hermann's Clipper was registered as display only so it was not judged.
1941 Studebaker Commander Cruising Sedan

This sharp 1941 Studebaker Commander Cruising Sedan belongs to Charlie Steffy of Altamonte Springs, Florida. Charlie's Commander is a Skyway Series Cruising Sedan with suicide doors and two-tone paint. The Skyway Series was slotted above the Delux-Tone Series and was the top trim model for 1941. The 1941 Commander used a 226 cubic inch six cylinder engine rated at 96 horsepower. A major change for 1941 was the elimination of running boards.
Charlie's Commander took a second in Division 1, Prewar, with 368 points.
The pictures were taken at the Studebaker Drivers Club International Meet in Dover, Delaware in July of last year.
---
DAN'S STUDEBAKER CROSSWORD PUZZLES
Dan Armstrong from Mansfield, Texas has created a number of crossword puzzles and games for car nuts. These are available on-line at Dan's Extreme Car Puzzles. Dan has a strong interest in Studebakers, particularly the 1956 Sky Hawk, the performance equipped 1963 Lark Daytona, and the performance equipped 1963 and 1964 GT Hawks. The Studebaker crosswords are copyright by Dan Armstrong and are used with his permission. Thanks to Dan for providing the link and the downloadable Studebaker crossword puzzles for readers of this page to enjoy.
---
Nick Bodemer's Studebaker Dealer Inventory Project was started in June 2011 and includes a growing number of pictures, articles, ads, and other items related to former Studebaker dealerships. Well worth a visit. If you have a Google account you can join the site through Google Friend Connect.
---
STUDE MISCELLANY
Custom 2R Series Extended Cab Pickup


Rear Angle View

"Wild Bill" from Southern Oregon provided pictures and information about his Custom 1953 Studebaker 2R Extended Cab Pickup. It sits on a 1992 Chevrolet Suburban three-quarter ton 4X4 chassis and is powered by Chevrolet 350 V8 with throttle body injection (TBI) and a Turbo-Hydramatic 700R4 transmission. The only part of the body left stock is the rear fenders and the grille. Front fenders are the type used on large Studebaker trucks. The bed is hand made of stainless steel lined with aluminum diamond plate and is taller than stock. This front view shows the intricately louvered hood.
The doors have been fitted with Hummer power flag style mirrors and AutoLock power windows and switches that use the original crank handles so as to appear stock on the inside. Other features include a Vintage Air Gen II heating and air conditioning system, custom Dakota Digital dash, tilt steering wheel, cruise control, intermittent windshield wipers, and a Lokar shifter. All of the glass including the windshield is bronze glass.
Thanks to Wild Bill for providibng the pictures and information about his cool Studebaker truck.
Lost 1955 President Speedster


A Second View

John Plaskett from Canfield, Ohio sent some pictures of a 1955 Studebaker Presdent Speedster that he is trying to locate. John's grandfather bought it in 1957 from the original owner in Ohio. John's brother moved to Sacramento, California around 1985 and brought the car there. After being worked on for a while, it was traded for a 1965 Mustang. That is where the trail ends.
The lady in the second photo is John's mother who passed away earlier this year at the age of 91. The photo was taken around 1982.
If the Speedster can be located, John is interested in bringing it back into the family. John indicates that it is serial number 7162908, body number 6H-K7 1134, and engine number P-14064. If anyone has information regarding this car, please contact the pagemaster and I will pass it on the John.
2015 Bridgewater Lawn Party



Melvin Wampler's 1950 Land Cruiser and Don Fitzsimons' 1956 Golden Hawk were both on the field at the July 2015 Bridgewater Volunter Fire Department Lawn Party. Melvin has owned this car for many years. It was featured as the Stude of the Month on this page back in February 1998. Don's 1956 Golden Hawk has a Chevrolet drive train and modern alloy wheels along with other modifications. He has owned this Hawk for about 10 years. Here is a shot of Don's Golden Hawk taken the same day. Don also owns a 1964 Avanti R3 that was Stude of the Month on this page in December 2011.
The Bridgewater Meet has evolved over time from a full-blown show with numerous classes and formal judging to an informal format with no judging. This is not necessarily a bad thing as sometimes it is nice to just go show off your car and chat with like-minded individuals.
---
Did you know that Michael Kelly's New Avanti Motor Corporation signed a deal to produce the VW based Brazilian Puma Sports Car? I didn't think so! The deal fell through when Kelly ran out of money. To learn more about the Puma, visit my Puma Sports Cars Site.
---
STUDE TOY OF THE MONTH
Phoenix Mint 1937 Studebaker Hearse





This 1:43 scale 1937 Studebaker Hearse is part of the Phoenix Mint Series made by Phoenix Toys. It is a good quality model that retails for $22. The model comes packed in a plastic display case inside a cardboard outer box. The hood opens to reveal a detailed engine and the both the side doors and rear door open to reveal a detailed interior. Here is a picture with the hood up and rear door open. Phoenix Toys also makes a U.S. Army Ambulance version of this casting which has opening side doors but a fixed rear door. Here is a picture of the hearse and ambulance versions together. I purchased both versions on eBay but they can also be ordered directly from Phoenix Toys.
During the 1920's and 1930's Studebaker produced cowl and chassis units to accept coach built bodies from companies such as Superior Body Company of Lima, Ohio and Bender Body Company of Cleveland and Elyria, Ohio. These "professional cars" included hearses and ambulances and were marketed through Studebaker dealers. A "real" 1935 Studebaker Hearse that is still in use by special arrangement appeared on this page in December 2013.
More toy Studes can be found in the Stude Stuff area of this page and on my Studebaker Toys Home Page.
Click here for information on ordering hard to find Studebaker toys made by manufacturers such as Johnny Lightning, Racing Champions, Hot Wheels, Matchbox, Muscle Machines, Maisto, and EKO.
Studebaker Toy Treasures Book

Jim Geary's book Studebaker Toy Treasures is the standard reference collectors of Studebaker Toys. This wonderful book has 294 pages of color pictures and details on hundreds of Studebaker toys. Publication date is 2004 and just about every Studebaker toy and model produced up to that time is pictured and cataloged. Jim is making the book available for the reduced price of $28 including shipping. This is a great deal since most vendors sell this book for $39.95 plus shipping. Jim will sign the book if requested. Jim can be contacted at sanjim76@live.com or send payment to Jim Geary, 181 Allendale Hills Road, Franklin, NC 28734.
---
---
---
---
* * * This Page On Line Since October 1995 * * *
---
Published 8/1/2015