---
BILL
JACKAMEIT'S
STUDEBAKER
PAGE
---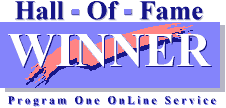 ---
---
Welcome fans of the pride of South Bend. I am a long-time Studebaker fan and Studebaker Driver's Club member, having owned a 1957 Silver Hawk in high school and a 1959 Lark Regal Hardtop in college. Since then, I have owned other Studes as hobby cars including a 1962 Champ Pickup, a 1964 Canadian Commander Special, a 1962 GT Hawk, a 1960 Lark Regal 4-door, a 1957 Silver Hawk (not the same one I owned in high school -- that one I wrecked) and a 1949 Champion Starlight Coupe. My current Stude is a 1964 Challenger Wagonaire sliding roof station wagon. I will build this page as time allows. If you have any suggestions or comments, please send me a message. If you expeience a problem with the e-mail link, the address is wj2d44@gmail.com. Both text and image contributions are welcome.
---
STUDE OF THE MONTH
DECEMBER 2016
1957 Studebaker Golden Hawk Hardtop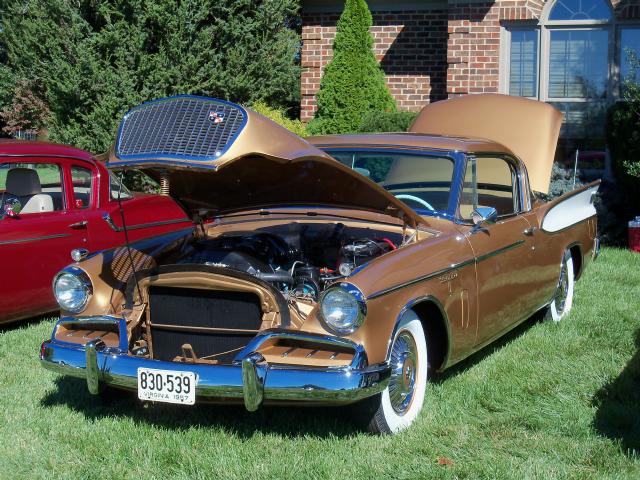 Front View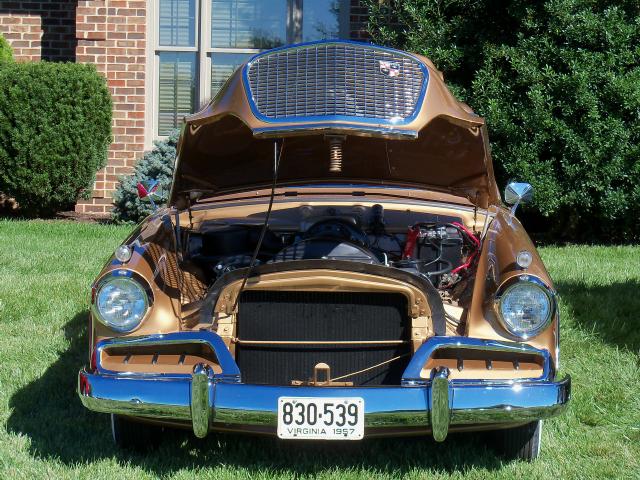 Rear View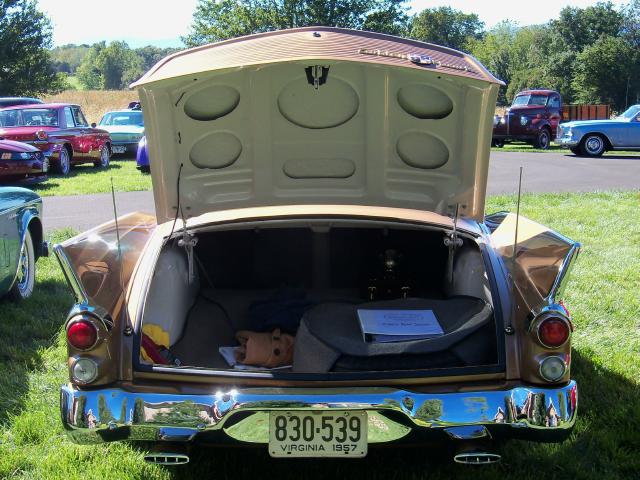 Interior and Dash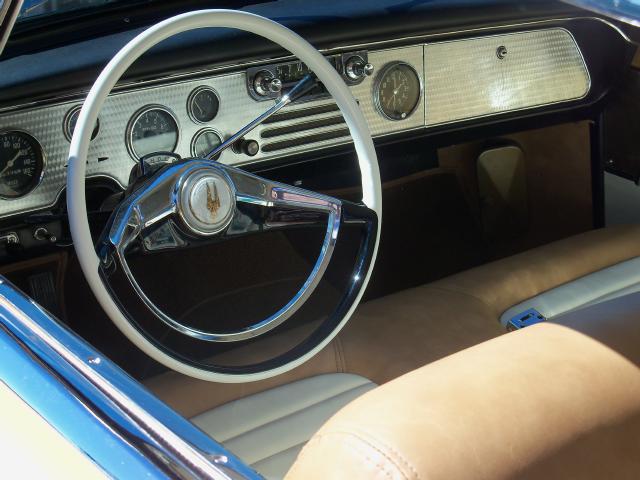 Rear Seat Area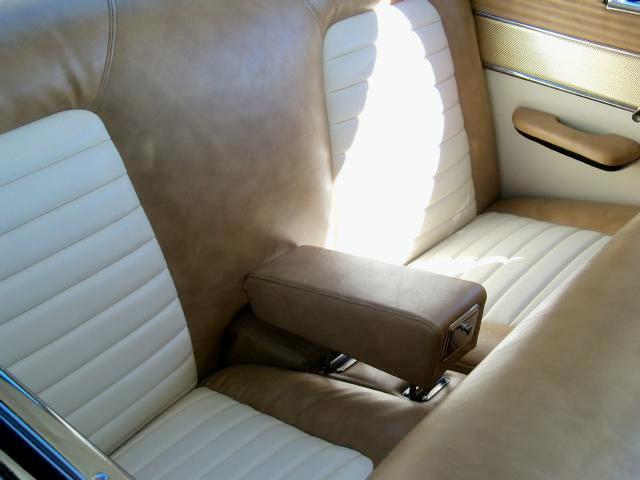 Under the Hood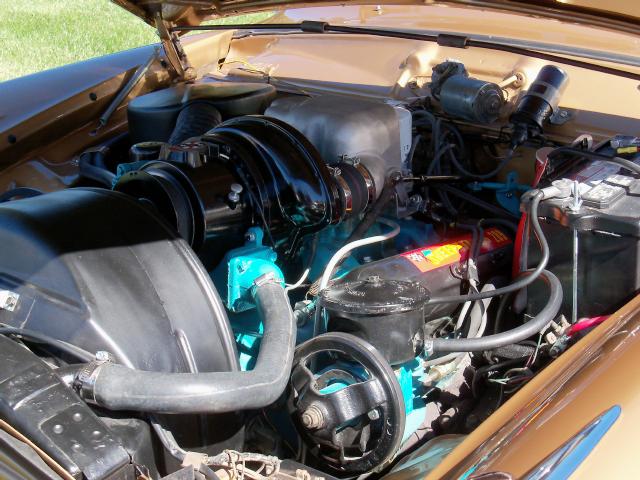 This beautiful 1957 Studebaker Golden Hawk Hardtop was restored by Mike Gassman who is the owner of Gassman Automotive in Waynesboro, Virginia. Mike restored the car for his wife Glinda starting with a sound but tired example of this iconic Studebaker model. Mike's shop does outstanding restoration work on British and exotic cars as well as American cars. His shop does body and mechanical work as well as paint and upolstery. I first saw this Hawk during a vist to Mike's shop earlier this year at which time it was partially disassembled and the chrome had just come back from the outside plating shop. The replated chrome pieces looked better than new at least to me. The restoration was completed in September 2016.
The Gassman's Hawk is almost entirely stock with a few enhancements and improvements. Mike added underhood stiffeners from Classic Enterprises. These are designed to give added strength to the notoriously kink-prone area on 1953 to 1964 hardtops, coupes, and Hawks. The Tiara Gold paint was tinted slightly darker than stock and a modern replacment tachometer has been installed in the dash. The outstanding upolstery work was done from scratch in the Gassman Automotive upolstery shop. The car has correct wide whitewalls and engine detailing. It his equipped with the optional Flightomatic automatic transmission and factory push-button radio. Here is a picture of the car with the hood down.
Studebaker produced very attractive multipage color advertising publications for 1957. Sedans, station wagons, and Hawks each had their own comprehensive multipage brochures. Here is the cover of the Hawk Brochure. All three brochures pictured the full line of cars and station wagons on the back cover. Nevertheless, Studebaker automobile production fell to 63,101 units for 1957. Compared to the sedans and wagons, Hawk production was relatively strong at 14,950 Silver Hawks and 4,356 Golden Hawks making 1957 the highest production year for both these models. The 1957 Golden Hawk came standard with a 289 cubic inch Studebaker V8 with a centrifugal supercharger rated at 275 horsepower.
The pictures above were taken at the October 2016 Greater Virginia SDC "Studebakers d'Elegance" Meet held at the home of Chester and Nancy Bradfield in Bridgewater, Virginia. This annual event has no entry fee and no judging, just lots of interesting cars, typically from several states. In addition to many fine Studebakers, the event attracted street rods from the Valley Cruisers and "Brand X" cars belonging to local AACA members. Thanks to Chester and Nancy for once again opening their home for this great event.
If you own or once owned a Studebaker or related vehicle and would like to see your car as "Stude of the Month" or in the "Cool Studes" section, or if you have other pictures or material that you would like to contribute to this page, please e-mail me here at wj2d44@gmail.com. I can accept either electronic or hard copy images. The Main Page is issued every other month so the next edition will be February 2017.
---
All of the previous editions of the Main Page going back to October 1995 have been reposted. In the process of reposting the pages, I have made corrections and revisions as needed, and in some cases added material that was not used when a page was first posted due to download speed and file storage limitations. A complete list of Main Pages and Studes of the Month with links to each is located here.
If you have a particular interest in Bullet Nose Studebakers, visit Bill Junge's Bullet Nose Paradise which is dedicated to the 1950 and 1951 Bullet Nose models.
---
2014 INTERNATIONAL MEET
DOVER, DELAWARE
BONNEVILLE SPEED WEEK
STUDEBAKER SALT FLATS RACERS
STUDEBAKER NATIONAL MUSEUM
PICTURES FROM MY VISIT
VIRGINIA MUSEUM OF
TRANSPORTATION STUDEBAKERS
---
TEST YOUR STUDEBAKER KNOWLEDGE!
---
More Cool Studes
Custom Studebaker Starlight Coupe


Front View


Rear Angle View


GT Hawk Style Dash

This custom Studebaker Starlight Coupe is owned by Bob and Mimi Halgren of La Mesa, California. It is a 1955 Commander with a 1953 front end. The engine is a 400 hp Chevrolet LS-2 with a GM automatic overdrive transmission. The car has an Art Morrison custom coil-over chassis with Wilwood brakes, a 9" Ford rear end, and rack and pinion steering. The interior includes GT Hawk dash with VDO gauges, a custom console, an Ididit adjustable steering column, and air conditioning from Vintage Air. The front seats are from Procar upholstered in green vinyl. The car is painted 2006 Chrysler Classic Yellow. Bob says that The car cruises effortlessly at 70 mph and averages about 20-22 mpg on the road. Here is a side view and a rear view of this neat Stude Coupe.
Bob is on the Board of the Antique Studebaker Club and Mimi is a past president of the Studebaker Drivers Club. Bob is a former owner of Keith Wahl's 1955 Conestoga Station Wagon that was Stude of the Month on this page in August 2016. The pictures above were taken at the October 2016 Bridgewater Meet. Bob and Mimi attended the Bridgewater Meet as part of a two-month, 11,450 mile cross country trip that included stops in South Bend, Chicago, and the big Antique Automobile Club Fall Meet in Hershey, Pennsylvania. They visited a number of museums during the trip including the Studebaker national Museum and the Baseball Hall of Fame in Cooperstown, New York.
Thanks to Bob for providing the information about his cool custom 1955 Studebaker Coupe .
1962 Gran Turismo Hawk Hardtop

This sharp 1962 Gran Turismo Hawk belongs to Ken and Michele St. Clair who toured the U.S. along with the Halgrens. Ken St. Clair is the President of the San Diego Chapter of SDC. The Halgrens are also members of the San Diego Chapter. The St. Clair's GT Hawk is mostly stock save for the earlier model accessory fog lamps and teardrop spotlight on the driver side. It is equipped with the standard Studebaker 289 cubic inch V8 with automatic transmission and power steering. It is one of 9,335 Gran Turismo Hawks produced for 1962.
The pictures of the Halgren's Starliner Hardtop and the St. Clair's GT Hawk were taken at the October 2016 Bridgewater Meet.
---
DAN'S STUDEBAKER CROSSWORD PUZZLES
Dan Armstrong from Mansfield, Texas has created a number of crossword puzzles and games for car nuts. These are available on-line at Dan's Extreme Car Puzzles. Dan has a strong interest in Studebakers, particularly the 1956 Sky Hawk, the performance equipped 1963 Lark Daytona, and the performance equipped 1963 and 1964 GT Hawks. The Studebaker crosswords are copyright by Dan Armstrong and are used with his permission. Thanks to Dan for providing the link and the downloadable Studebaker crossword puzzles for readers of this page to enjoy.
---
Nick Bodemer's Studebaker Dealer Inventory Project was started in June 2011 and includes a growing number of pictures, articles, ads, and other items related to former Studebaker dealerships. Well worth a visit. If you have a Google account you can join the site through Google Friend Connect.
---
STUDE MISCELLANY
1949 Champion Convertible


Interior and Dash

Dennis Hill of Odessa, Texas has decided that it is time to part with his 1949 Champion Convertible. He has owned this car for a number of years and it has been mostly restored including body work and paint. The interior needs some attention to bring the car back to original condition. Dennis has all of the parts needed to complete the car including the original front seats and interior trim. Some of the chrome needs to be replated and the gas tank could use a cleaning. Here is a rear view and here is a shot of the car parked in front of an old general store.
Dennis's Champion appeared on this page in August 2009 as Project Car of the Month and again in October 2009 as the project was moving along. Studebaker produced 7,035 Champion convertibles for the 1949 all with Regal Deluxe trim. Anyone who might be interested in purchasing this desirable model Studebaker can contact Dennis at den39012002@yahoo.com or by text message to (432) 362-8856.
---
Did you know that Michael Kelly's New Avanti Motor Corporation signed a deal to produce the VW based Brazilian Puma Sports Car? I didn't think so! The deal fell through when Kelly ran out of money. To learn more about the Puma, visit my Puma Sports Cars Site.
---
UK STUDE TOY COLLECTION
BoS 1953 Commander Starliner




Provence Moulage Starliner Race Car



Here are two more models from Jeff Sion's Studebaker toy car collection. Jeff is particularly interested in 1:43 scale models of 1953 to 1964 Studebaker hardtops and coupes. Thus far he has collected 31 different models including some very rare items. More of Jeff's collection can be seen here.
The BoS 1953 Studebaker Commander Starliner Hardtop is a newer model. BoS is a German company and its models are ready-made in resin. They are highly detailed inside and out with accurate color schemes. The BoS 1953 Starliner has also been issued in dark blue over light blue. BoS also makes a 1:43 scale 1951 Studebaker Champion Starlight Coupe and a 1951 Champion Convertible. These models retail for around $40 in the U.S. if you can find them.
The Provence Moulage Starliner Race Car was built from a resin kit by a French model builder. This makes sense since Provence Moulage is a French Company that is no longer in business. The model has been built as a Carrera Panamericana Race Car. The Carrera Panamericana is a revival of the original race which was run from 1950 to 1954 just after the Mexican stretch of the Pan American Highway was opened. Studebaker Starliner Hardtops and Starlight Coupes have enjoyed considerable success over the years in this event.
Thanks to Jeff for sending the pictures and information about his great Studebaker toy collection. Jeff indicates that he is always looking for 1:43 scale models of Studebaker hardtops and coupes and would enjoy hearing from other collectors with similar interests. He can be contacted by e-mail at jeff@magnifeyes.co.uk.
---
STUDE TOY OF THE MONTH
M2 Machines 1949 2R Army Pickup Truck






M2 Machines has issued yet another version of its Studebaker C Cab truck. This one is a very nice 1949 2R U.S. Army Pickup Truck with a covered back. Here is a picture of the model in its window box with clear plastic display case. I do not know if any 1949 Studebaker pickups were actually used by the U.S. Army but it is a nice addition to the line. According to the package this is a limited production model with only 9,800 available worldwide.
Most versions of the M2 Machines C Cab feature opening doors and hood with a nicely detailed engine. Here is a shot with the 1949 2R Army Pickup Truck with its hood raised and passenger side door open. The less expensive Auto-Drivers versions do not have a hood or doors that open. The Auto-Drivers models also come without the plasic display case.
M2 Machines has issued over two dozen versions of the Studebaker C Cab truck so far by my latest count. These include pickups with and without a covered back as well as tow trucks, stake beds and a version with a utilty box. They range from 1949 2R models to 1954 3R models with appropriate changes to the grille and trim. Most versions are only available for a few months as M2 Machines is constantly updating its offerings.
Several versions of the M2 Machines C Cab have been featured as the Stude Toy of the Month on this page. These include a 1954 3R tow truck in April 2011, a 1951 2R utility bed in December 2012, a 1951 2R stake bed in April 2013, and a 1954 3R pickup in December 2013.
More toy Studes can be found in the Stude Stuff area of this page and on my Studebaker Toys Home Page.
Click here for information on ordering hard to find Studebaker toys made by manufacturers such as Johnny Lightning, Racing Champions, Hot Wheels, Matchbox, Muscle Machines, Maisto, and EKO.
Studebaker Toy Treasures Book

Jim Geary's book Studebaker Toy Treasures is the standard reference collectors of Studebaker Toys. This wonderful book has 294 pages of color pictures and details on hundreds of Studebaker toys. Publication date is 2004 and just about every Studebaker toy and model produced up to that time is pictured and cataloged. Jim is making the book available for the reduced price of $28 including shipping. This is a great deal since most vendors sell this book for $39.95 plus shipping. Jim will sign the book if requested. Jim can be contacted at sanjim76@live.com or send payment to Jim Geary, 181 Allendale Hills Road, Franklin, NC 28734.
---
---
---
---
* * * This Page On Line Since October 1995 * * *
---
Published 12/1/2016