---
BILL
JACKAMEIT'S
STUDEBAKER
PAGE
---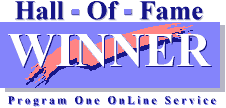 ---
---
Welcome fans of the pride of South Bend. I am a long-time Studebaker fan and Studebaker Drivers Club member, having owned a 1957 Silver Hawk in high school and a 1959 Lark Regal Hardtop in college. Since then, I have owned other Studes as hobby cars including a 1962 Champ Pickup, a 1964 Canadian Commander Special Sedan, a 1962 GT Hawk, a 1960 Lark Regal 4-door, a 1957 Silver Hawk (not the same one I owned in high school -- that one I wrecked) and a 1949 Champion Starlight Coupe. My current Studes are a 1964 Challenger Wagonaire Station Wagon with sliding roof and a 1964 Daytona Sedan. I will build this page as time allows. If you have any suggestions or comments, please send me a message. If you expeience a problem with the e-mail link, the address is wj2d44@gmail.com. Both text and image contributions are welcome.
---
STUDE OF THE MONTH
AUGUST 2019
1956 Studebaker Sky Hawk Hardtop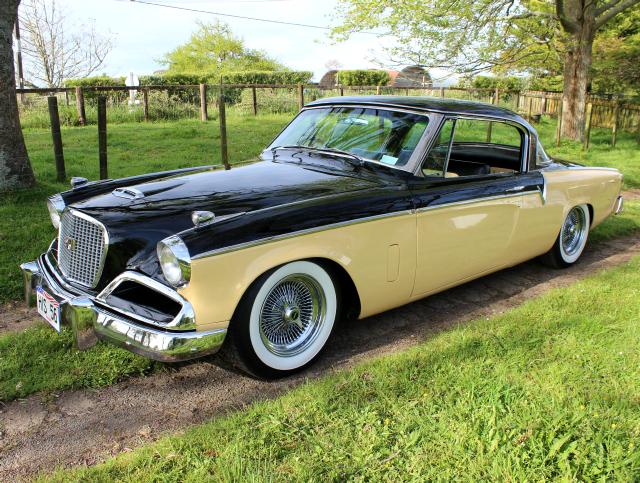 Side View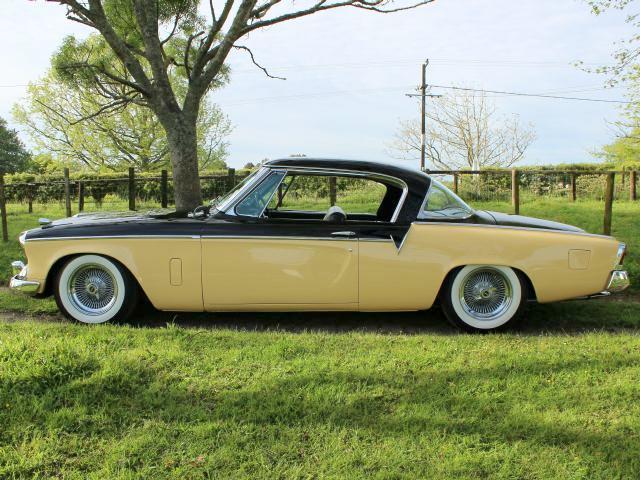 Driver Side Angle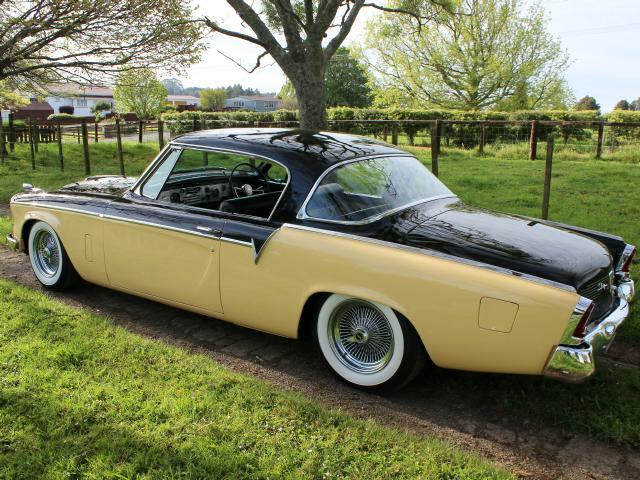 Rear Angle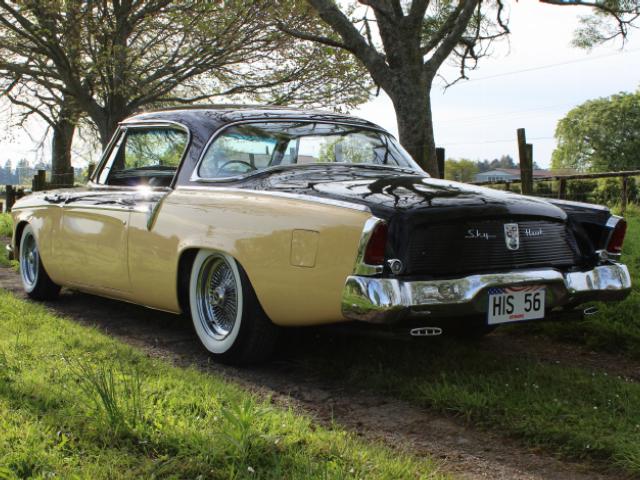 Matching Interior



Right-Hand Drive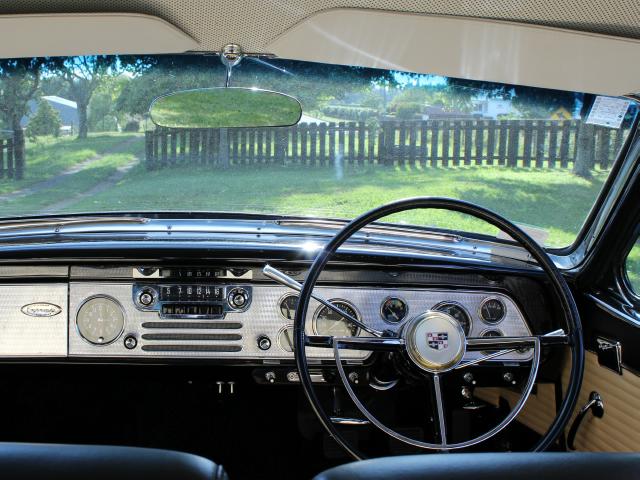 Rear Seat Area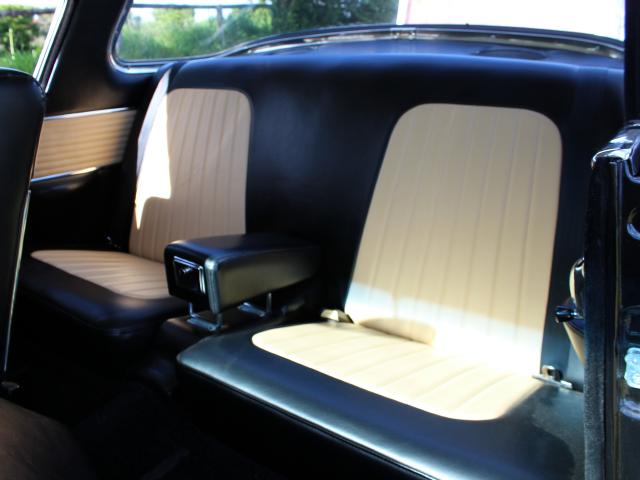 Under the Hood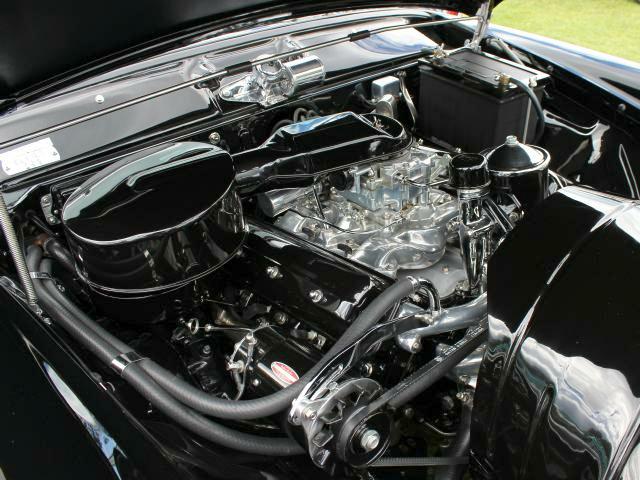 This beautiful right-hand drive 1956 Studebaker Sky Hawk Hardtop was restored by Trevor Halstead of Hamilton, New Zealand. The car was was originally left-hand drive but was converted to right-hand drive. Trev did the body work, paint, engine and transmission rebuild, suspension, brakes, chassis, and rewiring. The upholstery was done in the original pattern by Greg Mather of Midnight Upolstery Ltd. The yellow and black paint and matching interior make for a great presentation.
The original 289 cubic inch V8 was rebuilt with the camshaft reground to R1 specifications and with high compression cylinder heads. The transmission is a three-speed manual with overdrive and the rear end is limited slip Twin Traction. The rear differential was narrowed to accomodate seven inch wide wire wheels and Coker Classic period appearing whitewall radial tires. The front suspension was lowered four inches with heavy duty coil springs and the rear suspension is lowered two inches and has an extra stabilizer bar. The car also has the optional Hill Holder.
The body and chassis required extensive work and a number of parts needed to be repaired or in some cases refabricated. Included were both doors, door sills and posts, trunk floor, inner panels, body to chassis mounts, and hog troughs. The chassis and running gear were completely stripped and repainted in DuPont gloss black and silver. All of the body parts were stripped to bare metal, primed with DuPont epoxy primer, and repainted with DuPont acrylic lacquer. The original stainless steel trim was repaired and polished.
Trevor's Sky Hawk is well optioned with factory tachometer, clock, vacuum gauge, push-button radio, Climatizer heater and defroster, windshield washer, and backup lights. During restoration the wiring system was updated with modern relays and fuses. A JVC audio head is out of sight in the glove box. Trev indicates that the build time was about 2,000 hours.
The Sky Hawk was one of four Hawk models available in 1956. Sky Hawks were luxuriously trimmed but lacked the tail fins, bright metal rocker panels, and chrome band across the rear of the roof found on Golden Hawks. Of the four 1956 Hawk models, the Sky Hawk had the lowest production at 3,050 units. By comparison, 4,071 Golden Hawks were produced for the 1956 model year.
Trev Halstead is a professional restorer and builder of Studebakers and other makes. His 1953 Starlight Coupe Street Rod was Stude of the Month in October 2014 and his 1951 Champion Street Rod appeared on this page in June 2019. The 1951 Champion in an earlier iteration and his award winning 1952 Commander appeared on this page in August 2008 in a piece on New Zealand Studebakers.
Trevor has supplied the details of his Sky Hawk restoration. Thanks to Dianne Halstead for sending the pictures and information regarding Trev's beautiful 1956 Studebaker Sky Hawk.
If you own or once owned a Studebaker or related vehicle and would like to see your car as "Stude of the Month" or in the "Cool Studes" section, or if you have other pictures or material that you would like to contribute to this page, please e-mail me here at wj2d44@gmail.com. I can accept either electronic or hard copy images. The Main Page is issued every other month so the next edition will be October 2019.
---
All of the previous editions of the Main Page going back to October 1995 have been reposted. In the process of reposting the pages, I have made corrections and revisions as needed, and in some cases added material that was not used when a page was first posted due to download speed and file storage limitations. A complete list of Main Pagesand Studes of the Month with links to each is located here.
If you have a particular interest in Bullet Nose Studebakers, visit Bill Junge's Bullet Nose Paradise which is dedicated to the 1950 and 1951 Bullet Nose models.
---
2014 INTERNATIONAL MEET
DOVER, DELAWARE
BONNEVILLE SPEED WEEK
STUDEBAKER SALT FLATS RACERS
STUDEBAKER NATIONAL MUSEUM
PICTURES FROM MY VISIT
VIRGINIA MUSEUM OF
TRANSPORTATION STUDEBAKERS
---
TEST YOUR STUDEBAKER KNOWLEDGE!
---
STUDEBAKER UPDATES
1954 Champion Starlight Coupe Rod


Under the Hood

Kevin Nichols of Phoenix, Arizona sent some pictures of his former 1954 Champion Starlight Coupe "Superbaker" that was recently sold to a new owner in New Zealand. This car was featured as a project car on this page in February 2012. It is powered by a Chevy V8 bored out to 509 cubic inches with a Blower Drive Service (BDS) blower. A Turbo-Hydramatic 400 transmission transfers power though a 4.11 Dana Model 60 rear axle. Modifications include an opening in the hood to accomodate the blower and a 12 point roll cage. The car sits on a custom made tube chassis. Here is a picture from under the car.
New owner Brian Finch is a member of the New Zealand Drag Racing Association so the car may soon be joining the New Zealand drag racing scene. Thanks to Kevin for sending the updated picture and information about this hot car.
1955 Studebaker Conestoga Station Wagons

Keith Wahl of La Jolla, California sent this picture of his two 1955 Studebaker Conestoga Station Wagons. The one on the right with the louvered hood was Stude of the Month on this page in August 2016. The one on the left is Chevy powered while the one on the left is Avanti powered. Both wagons are Pima Red and Shasta White.
Keith did not set out to have two Connestoga Station Wagons. As a result of an accident that was not his fault, Keith purchased the second wagon to use for parts to repair his damaged wagon. In the end, he decided to rebuild both wagons and so he now has two of them.
Keith has written a story with pictures about his two wagons titled Studebakers Are Survivors and So Are Their Drivers, A Case of PTSD -- Pretty Tough Studebaker Driver which is posted here. Thanks to Keith for sending this story.
---
DAN'S STUDEBAKER CROSSWORD PUZZLES
Dan Armstrong from Mansfield, Texas has created a number of crossword puzzles and games for car nuts. These are available on-line at Dan's Extreme Car Puzzles. Dan has a strong interest in Studebakers, particularly the 1956 Sky Hawk, the performance equipped 1963 Lark Daytona, and the performance equipped 1963 and 1964 GT Hawks. The Studebaker crosswords are copyright by Dan Armstrong and are used with his permission. Thanks to Dan for providing the link and the downloadable Studebaker crossword puzzles for readers of this page to enjoy.
---
Nick Bodemer's Studebaker Dealer Inventory Project was started in June 2011 and includes a growing number of pictures, articles, ads, and other items related to former Studebaker dealerships. Well worth a visit. If you have a Google account you can join the site through Google Friend Connect.
---
STUDE MISCELLANY
Art Deco Studebaker Dealership Diorama











Randy Griggs of Louisville, Kentucky sent in a number of pictures of a 1:64 scale Studebaker Dealership Diorama that he built. In the world of model railroading, 1:64 scale is known as S Gauge. Randy found the dealership online and was able to get different views from Google Maps. He then estmated the building dimensions and simplified the building somewhat in that he made the corners of the shop walls straight instead of curved. He did, however, make the showroom walls curved. He made the roof hinged so he could place 1:64 scale models inside the showroom. The red Studebaker truck and gold Avanti in the showroom mimic a picture of the actual dealership. Randy added the Art Deco style Studebaker sign like the one at the top of this page which looks great but is not on the real building.
The model is based on a Studebaker dealership located in Mena, Arkansas. The orginal dealership was built in 1948 and served as a Studebaker dealersip into the 1960's. After Studebaker shut down, the building was used for a number of purposes including as a restaurant, a plumbing supply store, and a dry cleaning establishment. The building was vacant for a number of years before being restored in the 1990's along with an old ESSO gas station. The restored buildings house a collection of antique cars, motorcycles, pedal bikes, and automotive memorabilia. The Mena Studebaker dealership is on the National Register of Historic Places. Here is a picture of the actual building.
Randy's fine work has appeared on this page several time in the past. These include a 1:64 scale Studebaker C Cab Auto Transporter that was the Stude Toy of the Month in April 2012 and a 1:64 scale narrow box Champ Pickup that was Stude Toy of the Month in August 2012. Thanks to Randy for sending the pictures and information on his latest Studebaker related project.
---
PACKARD CORNER
1958 Packard Hardtop

Tom Campagna of Nassau County, New York sent some pictures of his solid white 1958 Packard Hardtop. Only 675 Packard hardtops were built for the 1958 model year. Based on the 1958 Studebaker President Starlight, the Packard version employed a double rear fin design. Other than the Packard Hawk, 1958 Packards used the Studebaker 289 cubic inch V8 without a supercharger.
Tom has owned his Packard for about a year. While the car is in outstanding condition, Tom notes that there are two very small dings in the gold side trim and he has not been able to find a replacement and he is not sure if it can be made correc tly. If anyone can help with this please contact the Pagemaster and I will pass the information on to Tom.
---
---
STUDE TOY OF THE MONTH
Racing Champions 1951 Studebaker Wagon







The Racing Champions 1951 Studebaker Wagon in green and black is an older issue from 1999. This model cames packed in a hard plastic stand-up blister pack. It is part of the Hot Rod Magazine Series of rods and street machines. The hood opens to reveal a chrome V8 engine and the chrome wheels have rubber like black tires. The interior on this version is tan and the base is individually numbered. Studebaker did not build a factory station wagon in 1951. My understanding is that this model was designed by Thom Taylor who also designed the Frankenstude Bullet Nose Coupe.
The wagon uses the base, engine, front grille, and wheels from the Racing Champions 1951 Studebaker Starlight Coupe Hot Rod. Other versions of the wagon include Studebaker Performance Parts, Ozzy Osbourne, and Goldberg Wrestling. All four versions of the wagon were editions of 9,999 each while the Starlight Coupe in yellow, purple, and black Hollywood Hogan Wrestling were editions of 19,999 each. The scale of the coupe is given on the packaging as 1:60 so the scale of the wagon, which does not have a scale indicated, should be the about same.
All versions of the Racing Champions 1951 Studebaker Wagon and Starlight Coupe Hot Rod appear regularly on eBay. Prices vary but most can be found in their original packaging for under $10 including shipping.
More toy Studes can be found in the Stude Stuff area of this page and on my Studebaker Toys Home Page.
Click here for information on ordering hard to find Studebaker toys made by manufacturers such as Johnny Lightning, Racing Champions, Hot Wheels, Matchbox, Muscle Machines, Maisto, and EKO.
Studebaker Toy Treasures Book

Jim Geary's book Studebaker Toy Treasures is the standard reference collectors of Studebaker Toys. This wonderful book has 294 pages of color pictures and details on hundreds of Studebaker toys. Publication date is 2004 and just about every Studebaker toy and model produced up to that time is pictured and cataloged. Jim is making the book available for $28 plus $10 for shipping. Jim will sign the book if requested. This is a must for the serious Studebaker toy vehicle collector. Jim can be contacted at sanjim76@live.com or send payment to Jim Geary, 181 Allendale Hills Road, Franklin, NC 28734.
---
My Current 1964 Daytona Sedan on the
September 2018 Turning Wheels Back Cover.
---
---
---
* * * This Page On Line Since October 1995 * * *
---
Published 8/1/2019