---
BILL
JACKAMEIT'S
STUDEBAKER
PAGE
---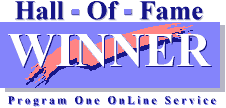 ---
---
Welcome fans of the pride of South Bend. I am a long-time Studebaker fan and Studebaker Driver's Club member, having owned a 1957 Silver Hawk in high school and a 1959 Lark Regal Hardtop in college. Since then, I have owned other Studes as hobby cars including a 1962 Champ Pickup, a 1964 Canadian Commander Special, a 1962 GT Hawk, a 1960 Lark Regal 4-door, a 1957 Silver Hawk (not the same one I owned in high school -- that one I wrecked) and a 1949 Champion Starlight Coupe. My current Stude is a 1964 Challenger Wagonaire sliding roof station wagon. I will build this page as time allows. If you have any suggestions or comments, please send me a message. Both text and image contributions are welcome.
---
STUDE OF THE MONTH
OCTOBER 2015
Studebaker M29 Weasel Cargo Carrier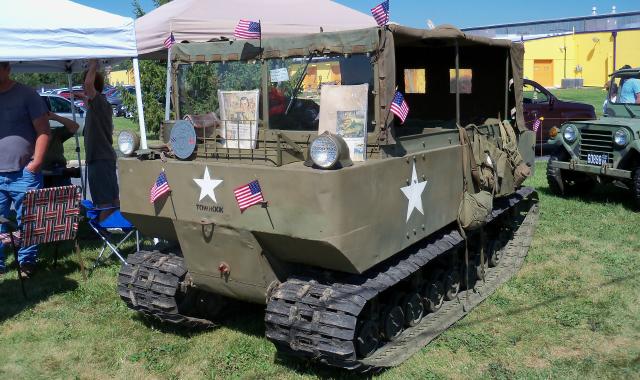 Rear Angle View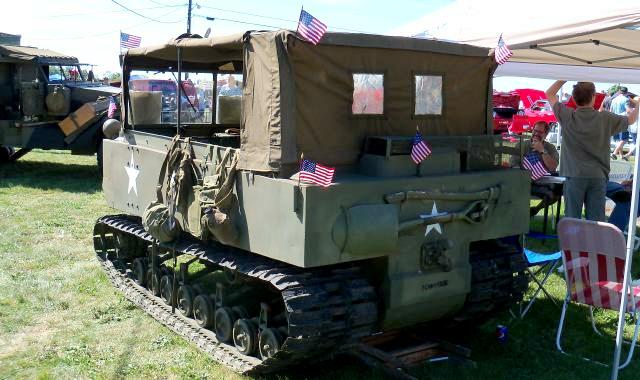 Side View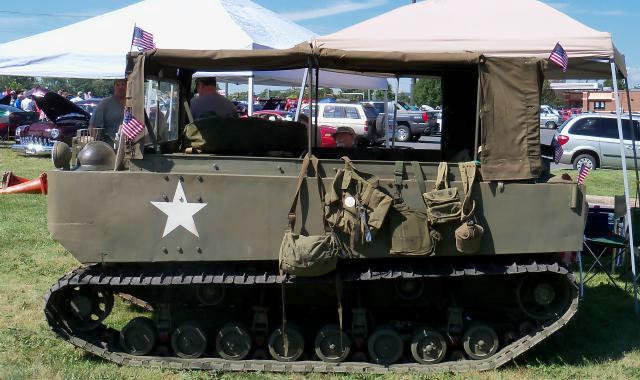 Front View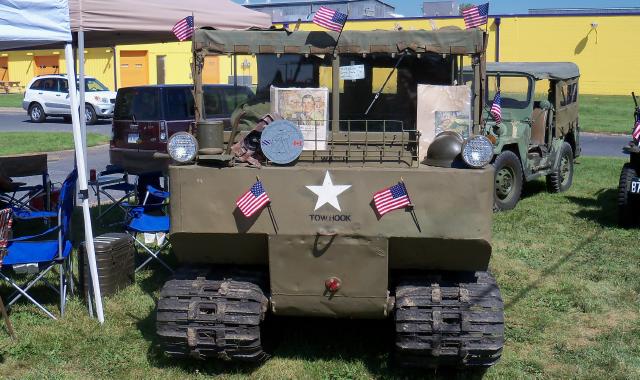 Troop Seats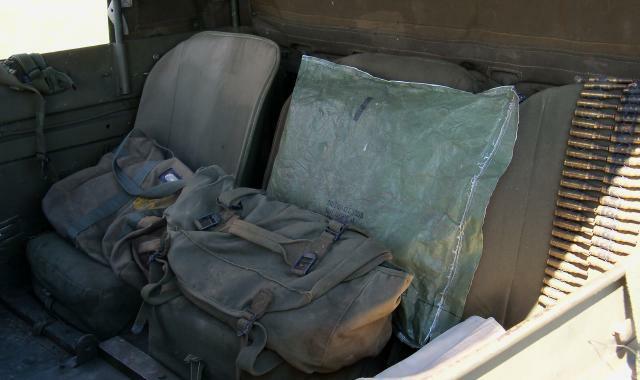 Dashboard and Instruments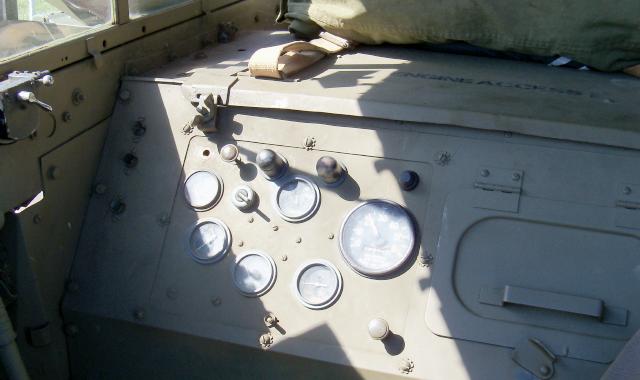 This Studebaker M29 Weasel Cargo Carrier belongs to Eddie Day of Wayneboro, Virginia. The Weasel was powered by a Champion engine adapted for military use. An interesting feature of the Weasel was a compartment located above the engine and transmission designed to hold dynamite and a detonator that could be used to destroy the vehicle. The M29 Weasel Cargo Carrier could cross streams and relatively shallow rivers but was not amphibious. The M29C Water Weasel shown in this wartime magazine ad was the amphibious version with buoyancy cells in the bow and stern and twin rudders. A total of 15,982 Weasels were built by Studebaker between 1941 and 1945 of which two-thirds were Water Weasels. A Studebaker Weasel was the first vehicle to roll onto Normandy Beach on June 6, 1944. Here is a closeup shot of the instrument panel of Eddie's Weasel.
The pictures of Eddie's Weasel were taken at the August 2015 Factory Antique Mall Car and Truck Show in Verona, Virginia. With over 100,000 square feet of floor space, the Factory Antique Mall claims to be the largest mall of its type on the East Coast. This was their 10th annual show which has grown into quite a large event. This years show included a special display of military vehicles owned by members of the Intermont Military Vehicle Club which is an affiliated chapter of the Military Vehicle Preservation Association. Eddie's Weasel was part of that display.
If you own or once owned a Studebaker or related vehicle and would like to see your car as "Stude of the Month" or in the "Cool Studes" section, or if you have other pictures or material that you would like to contribute to this page, please e-mail me here. I can accept either electronic or hard copy images. The Main Page is issued every other month so the next edition will be December 2015.
---
All of the previous editions of the Main Page going back to October 1995 have been reposted. In the process of reposting the pages, I have made corrections and revisions as needed, and in some cases added material that was not used when a page was first posted due to download speed and file storage limitations. A complete list of Main Pages and Studes of the Month with links to each is located here.
If you have a particular interest in Bullet Nose Studebakers, visit Bill Junge's Bullet Nose Paradise which is dedicated to the 1950 and 1951 Bullet Nose models.
---
2014 INTERNATIONAL MEET
DOVER, DELAWARE
BONNEVILLE SPEED WEEK
STUDEBAKER SALT FLATS RACERS
ELECTRIC POWERED 1950
STUDEBAKER PICKUP TRUCK
STUDEBAKER NATIONAL MUSEUM
PICTURES FROM MY VISIT
VIRGINIA MUSEUM OF
TRANSPORTATION STUDEBAKERS
---
TEST YOUR STUDEBAKER KNOWLEDGE!
---
More Cool Studes
This is the twentieth aniversary of this page. It was first published on-line in October 1995. As far as I know, it is the second oldest Studebaker page on the web. Only Keith Johnson's page is older having started earlier in 1995. Much has changed since that time, and there is infinately more Studebaker content on the web. Below are more recent (or in few some cases different from those used earlier) pictures of some of my favorite cars that have appeared on this page over the years.
1962 Studebaker Gran Turismo Hawk

This beautiful 1962 Studebaker Gran Turismo Hawk belongs to Frank Philippi of Ocean Pines, Maryland. Frank has owned this Hawk since 1979. It has been restored to original condition. Black was a popular color on first year GT Hawks and was used on the car pictured in the attractive double page side view artwork on the inside of the 1962 Gran Turismo Hawk dealer brochure. The picture was taken at Assateague National Seashore around 2006. Frank also owns a 1960 Lark Convertible shown here at the 2014 SDC International Meet in Dover, Delaware
Frank's Hawk was Stude of the Month on this page in October 1998. Thanks to Frank for sending this great picture of a great car.
1951 Studebaker Champion Street Rod

This cool 1951 Studebaker Champion Street Rod belongs to Bill Junge of Lake Havasu City, Arizona. Bill purchased the car in October 1993 and had it built into a street rod. This neat car is powered by a Chevrolet 350 V8 mated to a GM Turbo Hydramatic 350 transmission and S-10 Chevy Blazer rear end. Bill's car has won numerous awards and appeared in an episode of the 1990's "Brotherly Love" television series. Bill maintains a web site called "Bullet Nose Paradise" which is dedicated to 1950 and 1951 Bullet nose Studebakers. The complete story of the building of Bill's rod is included on that site.
Bill's Champion Rod was Stude of the Month on this page in July 1997 and again in October 2005. It is the only car to be featured twice as Stude of the Month on this page.
1941 Commander Cruising Sedan

This outstanding 1941 Studebaker Commander Cruising Sedan belongs to Fred Hall of Cambridge, Ontario. Fred purchased the car from SDC Member Brian Schuppert of Gibsons, British Columbia. Studebaker offered two styles of Commander 4-door sedans in 1941. The Cruising Sedan featured suicide doors in the rear as on Fred's car and the Land Cruiser featured forward opening doors front and rear. The 1941 Commander used a 226 cubic inch six cylinder engine rated at 96 horsepower. Fred is not sure if the rear fender skirts are factory or aftermarket but they sure look sharp.
Fred's 1941 Commander appeared on this page in April 2015 along with his former 1962 Lark Daytona Skytop Clone.
1964 Studebaker Avanti R3

This sharp 1964 Studebaker Avanti belongs to Don Fitzsimons of Grottoes, Virginia. Don's Avanti is powered by a Paxton supercharged Studebaker R3 V8 with a stock Carter AFB 4-barrel carburetor. The engine is bored .090 over to 320 cubic inches. Other modifications include Crane roller camshaft and triple valve springs, Crower roller lifters, Oberg oiling and fuel system, and MSD electronic ignition. The transmission is a stock Borg-Warner T-10 four-speed with a Hurst competition shifter and stock Dana 44 rear axle with Studebaker Twin Traction limited slip differential. The car rides on 16" Budnick aluminum wheels. The picture was taken at the May 2015 ODMA Meet in Verona, Virginia.
Don's Avanti was Stude of the Month on this page in December 2011. In addition, his 1962 Champ Pickup was Stude of the Month in January 1996 and his Chevy powered 1956 Golden Hawk appeared on this page in December 2005 and again in August 2015.
1956 Studebaker President Classic Sedan

This beautiful 1956 Studebaker President Classic Sedan was once owned by Frank Philippi. Frank purchased this car in September 2007 from a seller in Peabody, Massachusetts. The story is that the car was donated to a church in Virginia and eventually auctioned off, which is how it came to be in the Boston area. Frank says it was a great car but he was faced with having three Studebakers and only two garage spaces so one needed to go. Frank sold the car in May 2014 to SDC member Mark James who lives in Lancaster, Pennsylvania. Mark also owns a 1958 Golden Hawk that was awarded the Paul Doerring Founder's Award for the most outstanding post-war car at the May 2014 Hilton Head Island Concours.
Frank's former President Classic was Stude of the Month on this page in June 1997 when it was in the Roanoke, Virginia area. The same 1956 Virginia license plates on the car in the 1997 pictures were in the trunk of the car when Frank purchased it in 2007.
1956 Studebaker Power Hawk Coupe

This sharp 1956 Studebaker Power Hawk Coupe is owned by Bob Ridle of Staunton, Virginia. Bob has owned this car since 1987. Bob's car is equipped with Studebaker's 259 cubic inch V-8 with two-barrel carburator and single exhaust as was standard on Power Hawks. The car is very well optioned with Climatizer heater/defroster, Flightomatic automatic transmission, power steering, radio, whitewall tires, oil filter, cigar lighter, and undercoating. Dealer installed accessories include a push-button radio, tachometer, clock, and vacuum gauge, and full wheel covers. The two-tone paint is Romany Red and Snowcap White. Bob added the V-chrome trim side trim and used the tri-level paint scheme that was optional on 1956 Hawk hardtops when he had the was repainted.
Bob likes to drive his Hawk and his other collector cars to shows and has driven some long distances over the years. Bob relates that several years ago, the Hawk blew its front transmission seal somewhere out in West Virginia while on the way to a car show in Ohio. Bob is in the habit of carrying extra fluids including automatic transmission fluid and he was able to add some ATF to the tranmission and limp back to Virginia. The front and rear transmission seals were replaced and the transmission has been fine ever since.
Bob's Hawk was Stude of the Month on this page in December 2009. Bob also owns a pristine 1951 Champion that was featured on this page in August 2011.
1947 Studebaker Champion Starlight Coupe

Finally, here is one of my former Studebakers. I purchased this 1949 Champion Starlight Coupe in June of 2004 and owned it for about six years. Other than being equipped with an overdrive transmission, this car came from the factory with no options. It did not have a radio or turn signals and the rear fender gravel guards were missing. What it did have was a Ford heater under the dash. It had a decent repaint when I bought it and over time I improved the car to include installing a pair of NOS stainless steel gravel guards and rechroming the rear bumper. The picture above is from a group taken in 2010 when it was being listed for sale. Here is a rear angle view.
This car was Stude of the Month on this page in January 2005. It was also featured in an update report in February 2006. The car was sold to Chris Taylor of Ocala, Florida. Chris also owned a 1931 Studebaker Model 54 Street Rod that was Stude of the Month on this page in October 2010.
---
DAN'S STUDEBAKER CROSSWORD PUZZLES
Dan Armstrong from Mansfield, Texas has created a number of crossword puzzles and games for car nuts. These are available on-line at Dan's Extreme Car Puzzles. Dan has a strong interest in Studebakers, particularly the 1956 Sky Hawk, the performance equipped 1963 Lark Daytona, and the performance equipped 1963 and 1964 GT Hawks. The Studebaker crosswords are copyright by Dan Armstrong and are used with his permission. Thanks to Dan for providing the link and the downloadable Studebaker crossword puzzles for readers of this page to enjoy.
---
Nick Bodemer's Studebaker Dealer Inventory Project was started in June 2011 and includes a growing number of pictures, articles, ads, and other items related to former Studebaker dealerships. Well worth a visit. If you have a Google account you can join the site through Google Friend Connect.
---
STUDE MISCELLANY
1964 Studebaker Challenger Wagonaire Update


Rear Angle View


Front View

My 1964 Challenger Wagonaire achieved an Old Dominion Meet Association First Junior in May of this year. I purchased this car in 2011 from an owner in New Jersey. At the time it had just over 38,000 miles on the odometer and had been in storage for the better part of 40 years. The all vinyl interior was in near new condition but the Laguna Blue paint has faded with age. The dash did not have any cracks and the headliner was original and in excellent condition with no water stains. The only major thing done to it since purchase was a repaint in the original color which included pulling the engine to respray the engine bay. I also had the front and rear bumpers and bumper guards rechromed and added backup lights during the repaint.
A recent addition that can be seen in the first two pictures is a period accessory full width splash deflector made by a company called GP Automotive. I was able to purchase this item new in the box complete with all mounting hardware. These are not easy to find but they do show up on eBay from time to time. This one is Model WF-71 which it turns out is just the right width for the Wagonaire. These were a somewhat popular station wagon accessory during the 1960's and several aftermarket manufacturers offered similiar products. As far as I can determine, Ford and GM offered full-width station wagon flaps as dealer installed accessories in 1964 but Studebaker did not officially offer this accessory.
The Wagonaire was Stude of the Month on this page in April 2013. Pictures of it shortly after I acquired it appeared in April 2011 and pictures taken during its time at the paint shop appeared in June 2012. It also appeared on the inside back cover of the October 2014 issue of Turning Wheels.
---
Did you know that Michael Kelly's New Avanti Motor Corporation signed a deal to produce the VW based Brazilian Puma Sports Car? I didn't think so! The deal fell through when Kelly ran out of money. To learn more about the Puma, visit my Puma Sports Cars Site.
---
STUDE TOY OF THE MONTH
Muscle Machines Vote America 1950 Studebaker







Muscle Machines issued a number of 1:64 scale cars in its 2004 Vote America Series including these two versions of the 1950 Studebaker Starlight Coupe. All of these models came packed on a special Vote America blister card. As far as I can tell, the Democrat version only came with the plain hood and the Republican version only came with the big chrome engine. Here is a shot of both the Democrat and Republican versions together. It is interesting that the Democrat cars are red and the Republican cars are blue in that this is the reverse of the "Red State" for Republican leaning states and "Blue State" for Democrat leaning states that is commonly used in the press.
Regular issues of the Muscle Machines 1950 Studebaker Starlight Coupe came in aqua or dark gold with black tires and in "chase" versions with all white tires that were limited to 1,496 pieces each. Here are examples of the aqua and dark gold chase versions from my collection. There were also a number of special show editions. Muscle Machines also made a 1953 Studebaker Starliner Hardtop Street Rod that was covered on the page in October 2014.
More toy Studes can be found in the Stude Stuff area of this page and on my Studebaker Toys Home Page.
Click here for information on ordering hard to find Studebaker toys made by manufacturers such as Johnny Lightning, Racing Champions, Hot Wheels, Matchbox, Muscle Machines, Maisto, and EKO.
Studebaker Toy Treasures Book

Jim Geary's book Studebaker Toy Treasures is the standard reference collectors of Studebaker Toys. This wonderful book has 294 pages of color pictures and details on hundreds of Studebaker toys. Publication date is 2004 and just about every Studebaker toy and model produced up to that time is pictured and cataloged. Jim is making the book available for the reduced price of $28 including shipping. This is a great deal since most vendors sell this book for $39.95 plus shipping. Jim will sign the book if requested. Jim can be contacted at sanjim76@live.com or send payment to Jim Geary, 181 Allendale Hills Road, Franklin, NC 28734.
---
---
---
---
* * * This Page On Line Since October 1995 * * *
---
Published 10/1/2015